What do you do on Saturday afternoon when you have a thousand things to do and yet another vacation to start packing for…COME UP WITH A NEW RECIPE OF COURSE!
I was craving a salad…go figure…and I had all the fixins for this amazing chopped salad! The dressing is totally amazing! It is seriously bowl-licking good!!!
You could really interchange the veggies, based on personal preferences and what you have on-hand!
The amounts I used here served 2-3 people.
I used:
1 romaine lettuce head
4-6 Roma tomatoes (from our CSA)
red onions to taste (from our CSA)
1 yellow pepper
1 English cucumber
1/2 avocado
Directions: Chop all of the veggies into small, bite-sized pieces. In my opinion, that is what makes a good chopped salad! Place all of the veggies into a big bowl
For the dressing (should be MORE than you need):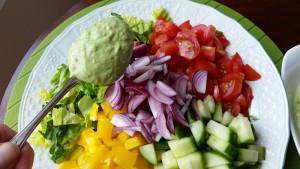 1/2 avocado
1/4 c. Greek yogurt
1 garlic clove – chopped/minced (I used garlic scapes from our CSA.)
1 T. white balsamic vinegar
Juice from 1/2-1 lemon (depending on size and taste)
1/2 cup basil leaves (or just a nice bunch!)
1/4 c. olive oil
salt & pepper to taste
Directions: Place everything except the oil into a blender or food processor and pulse until it starts to come together. Then blend, while slowly drizzling the olive oil into the mix (may use less or more depending on taste and desired consistency). Add by spoonfuls into the veggie bowl and gently toss together until everything is lightly coated with dressing. Reserve the rest for later!
*Optional Extras: add some chopped grilled chicken, feta cheese, nuts, beans, etc…you can't make a mistake with this!
For 21 Day Fix:
1
blue

, 1

teaspoon

, 1.5

greens

per serving

21 Day Fix and 21 Day Fix Extreme Challenge Packs are on sale through the end of July! You can actually get either program PLUS Shakeology for LESS than a one-time order of Shakeology! Check out the links below! And then go make this salad!!!
*I'll coach you through it – for FREE – as I have SO many others! I've seen women lose up to 10-15 pounds in the first 21 days…and just keep going! I've seen men lose even more! (not fair though is it?) Just join my next challenge, and you won't be alone. I'll help you every step of the way!