I am always SO inspired by the pretty food pictures and delicious sounding recipes on Pinterest. But let's be real…they NEVER really turn out as pretty as the picture, RIGHT?!
Well…not this time bub! I was so pleased with how pretty this dish was when I made it last week…I had to take a picture of it. In my opinion…it is a work of art! But was it worth ALL of the effort…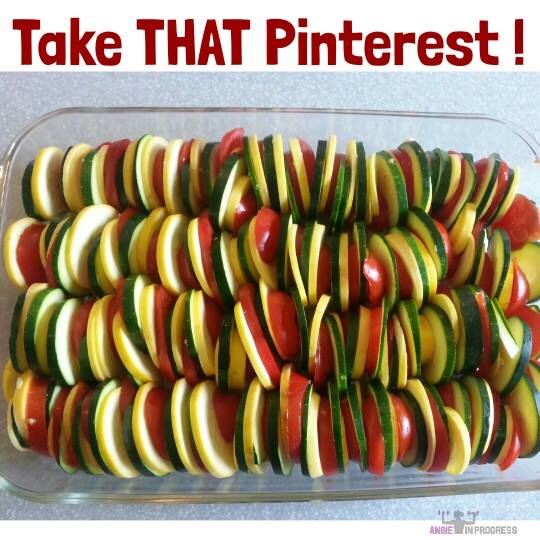 I do believe it WAS!
It really wasn't ALL that difficult. Just a little time consuming to slice and place all of the veggies just so. So here is what I did for a 9 x 13 inch dish:
Take That Pinterest
1/2 medium sweet onion – diced
3-4 garlic cloves – minced
2-3 zucchinis
2-3 yellow squash
5-6 roma tomatoes (Or adjust depending on the size tomato you want to use.)
olive oil
3 T. chopped fresh basil
salt and pepper to taste
freshly grated parmesan cheese (Or a little sharp cheddar would be good, too.)
Directions: Preheat oven to 400°. Drizzle the bottom of a glass pan with a little olive oil. Saute onions and garlic in a little olive oil for 3-4 minutes. Meanwhile, slice up all of the veggies! I used a knife, I didn't want them to be paper thin (using a mandolin would be ok…but just don't use the thinnest setting). Place the slices int the pan in an alternating pattern. Sprinkle the top with sea salt, pepper and the fresh basil. Cover with foil and cook for 30 minutes. Take out, remove foil and sprinkle on a little freshly grated parmesan cheese!
TA Die For!
Take a picture of YOUR masterpiece and share it with me HERE!
Like this recipe? Want MORE?! Join me on Monday, August 18 for my FREE 7 Day Slim Down group on Facebook! Past groups have lost an average of 5-7 pounds…in one week! You won't be starving either! We're eating 5-6 meals/day of good, clean foods!
What's Included?
✔Daily Meal Plan
✔Shopping List
✔Daily Support
✔Accountability (in a private Facebook group)
✔Daily workout suggestions (or just commit to 30 minutes/day!)
DEADLINE TO SIGN UP Friday August 15th!
Click here for more information and get signed up ➡ CLICK HERE