I have been meaning to post this recipe for quite some time! Finally, today while I was out running 16 miles with my cousin-in-law (is that a thing?)…we had a llloooonnnnggg time to talk about things! Somehow or another, the topic turned to "sweet potatoes". It reminded me that I LOVE sweet potatoes…and loving sweet potatoes reminded me that I have this awesome recipe I really wanted to share!
As per usual, I started with a couple of recipes from the world-wide internets, and made it my own. Feel free to do the same, but I assure you… this one is da bomb!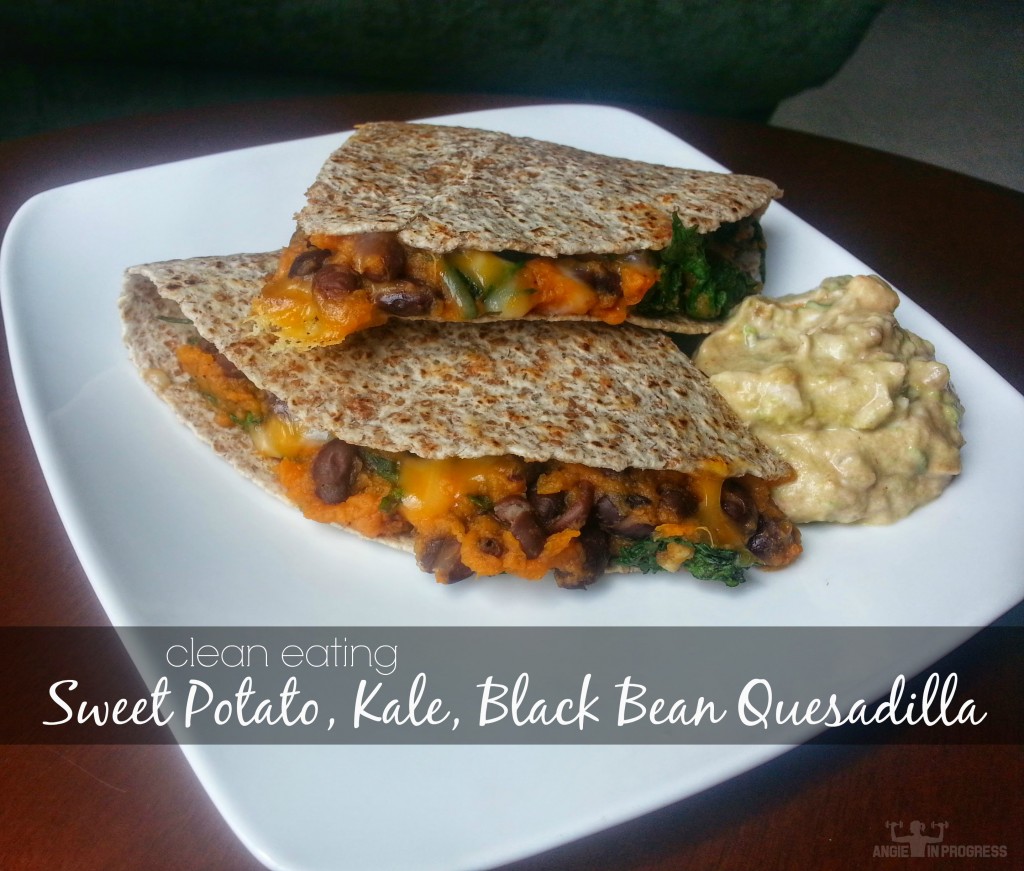 Sweet Potato, Black Bean, Kale Quesadillas (4 servings)
2 medium sweet potatoes – peeled and cut into 2 inch chunks
½ teaspoon cumin
1 teaspoon chili powder
1/4 t. chipotle chili powder (or cayenne)
½ tablespoon olive oil
3 cups chopped kale
1/4 C. diced sweet (or red) onion
1 can black beans, drained and rinsed
4 Ezekiel tortillas (or large whole grain)
1/2 C. shredded cheddar cheese
sea salt
For sauce:
1/2 C. non-fat Greek yogurt (I like Fage)
1 avocado
1/2 C. salsa
1/2 lime (juiced)
*BLEND until smooth
Directions:
Add the potatoes to a medium saucepan and add enough water to cover the potatoes. Add ½ teaspoon of sea salt to the pot. Boil or steam potatoes until tender (about 15 minutes). Use a potato masher to mash the potatoes. Add another ¼ teaspoon salt, cumin, chili powder, and chipotle seasoning. Mix until well combined.
In a medium skillet, heat the olive oil over medium heat. When hot, add in the kale and onions. Cook for about 2 to 3 minutes, until the kale is bright green and tender. Add the mixture to the bowl with the mashed sweet potatoes. Next add in the black beans and mix until well combined.
Place the tortillas on a work surface. Use a spatula to smear about ⅓ to ½ cup of the filling on half of the tortilla. Top with a couple of tablespoons of the cheese (or to taste). Fold the empty half of the tortilla over the filling to form a semicircle. Repeat with remaining tortillas.
Wipe out the skillet you used for the kale and set over medium high heat. When hot, spray lightly with non-stick cooking spray. Place an assembled quesadilla in the pan and cook, flipping once halfway through, until both sides are browned and the cheese is melted. Cut into triangles and serve with the sauce.
Want MORE clean recipes?
Sign up below for my FREE 7-Day SlimDown Plan! You'll get recipes, shopping lists, meal plan, and workout suggestions. Participants who follow the plan lose up to 5-7 pounds!