This is a bet you're going to want to take! Quite possibly the easiest way to earn money I've ever heard of…seriously! There will be anywhere from $1 million to $3 million in the pot (it's growing every day!) and you will split that with everyone else who does 3 simple things:
Workout a minimum of 3 times/week. (easy!)
Drink Shakeology (and take pictures for proof) 5 times/week. (delicious!)
Log your activity in the Challenge Tracker app from Sept 5 – Oct 2.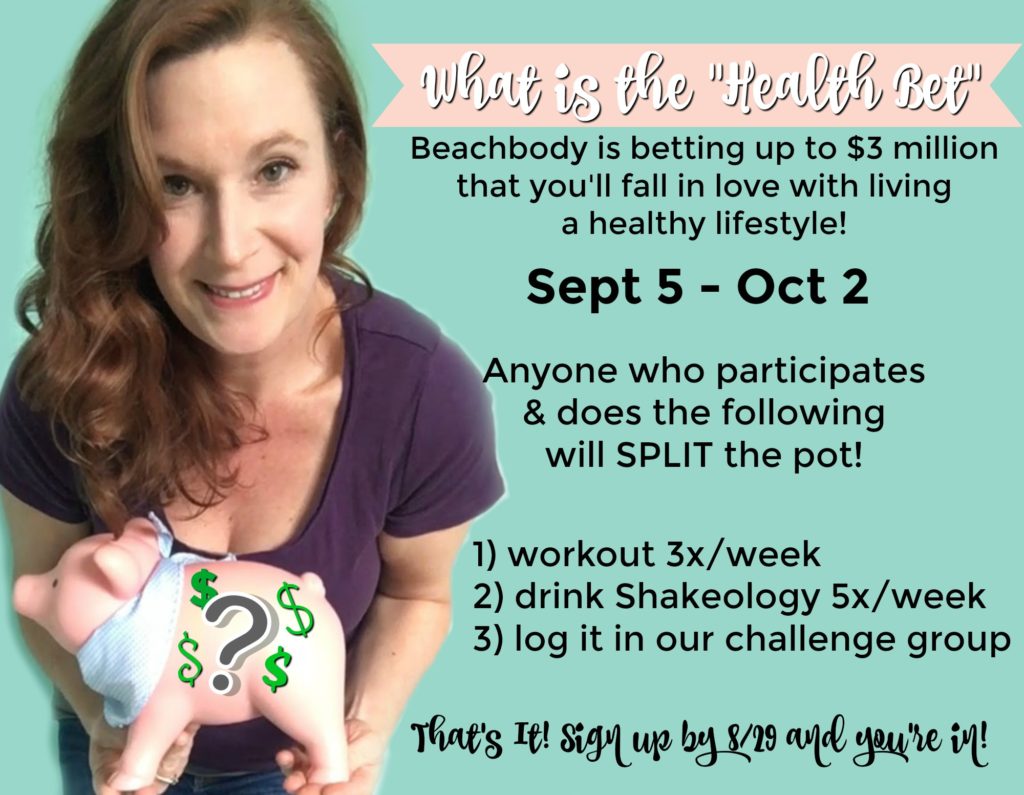 If you're already working out and drinking Shakeology…this is a NO-brainer! All you need to do is sign up for my next challenge, starting September 5, do the 3 things listed above, and you'll be sharing a piece of the pie! How much money you win just depends on the total prize pot and the number of participants! But you are guaranteed to walk away with some extra cash just for living a healthy lifestyle. No embarrassing weigh-ins required. Just sweat and sip your way through September and you're a winner! (In more ways than one!)
Deadline to get signed up is Monday, August 29!
*Extended through Sunday 9/4!
Don't have a workout you love? (I can help with that!)
Not drinking Shakeology? (I can help with that, too!) *Try it for 30 days and if you don't love it, return an empty bag. Seriously.
There are a TON of GREAT sales this month! If you try Shakeology you get a workout program for just $10 more! All of the TOP programs are on sale! Check it out!
I don't know about you, but with all of the travelling and vacations, eating out, bbq's, etc….I kinda lost focus a bit. My workouts slipped and nutrition too. It wasn't a total loss, but I've got some work to do to get back on track! This is the perfect time to do just that!
Summer is winding down, and we're about to get hit with busy schedules, kids' activities, demands of our time, fall treats and goodies, etc… We can't be the best version of ourselves to take all of that responsibility on without taking care of ourselves first! Take this bet and set yourself up for a fall that you can take head on – with your head up – feeling good about yourself, with more energy to do all of the things! I will be there to help you every step of the way! And together we will get fit and win some cash to boot!
SO LET'S DO THIS! WHO'S IN?
Fill out the form below and let's get started!