Well these were super easy peasy to make and quite delicious! Is it wrong that I want to hide them from my kids?
It never fails, when I make a healthy 'treat' for myself on the weekends, that I could enjoy for the entire week, the kids have them gobbled up before the week even starts. And they found these right away because the house smelled amazing! They were like vultures, trying to pop steaming hot muffins from the pan fresh out of the oven! Maybe not the 'smartest' vultures! 😉
I am starting the 21 Day Fix Extreme again this week, and these are approved for the meal plan! 🙂 I like them because they are not sickeningly sweet – but just enough to satisfy a little sweet tooth without making you feel like you need MORE!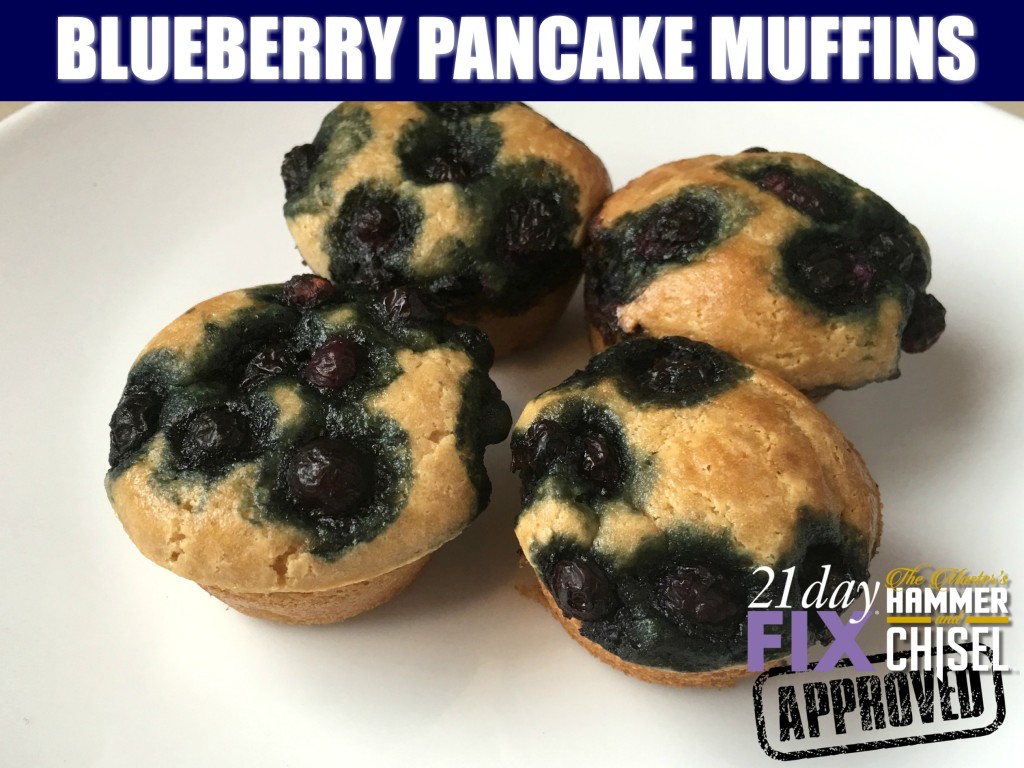 So here is how I made them:
Blueberry Pancake Muffins
*I made 24 MINI muffins! If making larger muffins, you'll need to adjust the baking time.
1 1/2 cups almond flour (I get mine at Costco – but you can also find Bob's Red Mill and other brands)
1/4 cup plain Greek yogurt (I like Fage)
2 T. coconut oil
2 T. honey, maple syrup or sweetener of choice (I used coconut sugar for this one)
1 tsp. vanilla extract
1 tsp. baking soda
1/4 tsp. sea salt
2 eggs + 2 whites
1 cup fresh or frozen blueberries (or ANY berries!)
Directions:
Preheat oven to 350 degrees and spray your muffin tin with cooking spray.
Place all of the ingredients except the berries into a blender or food processor and pulse until smooth – it will be thickish.
Fill the muffin cups 1/2 – 2/3 full and spoon the berries on top. Poke them in a bit and they will sink as they bake.
Bake for 10-15 minutes, until the tops are lightly browned and spring back when you press them.
ENJOY! (and/or HIDE from you kids!)
Nutritional Info:
Serving size = 4 mini muffins!
Containers: 1/2 yellow, 1 blue, 1/4 red, 1/4 purple, 1 tsp
Programs that use the container system:
CLICK HERE to see what's on sale this month!
CLICK HERE to join my next challenge group for daily support, accountability and motivation!