Now that we're THIS close to spring…my mind naturally goes to
SUMMER! It'll be here before we know it! So…are you ready? Have you pulled out those shorts from last season. UGH! I don't know about you…but how many times have I tried on last year's clothes only to find out they don't fit!!! Is there anything worse than that?
No. There isn't.
I have spent spring days on my bed, just about in tears, because every article of clothing I pulled out of the box from the basement was either too tight, too small or too short. How could that happen in just 6 short months?! SO frustrating!
But we've got time! And where there's a will, there's a way! You provide the WILL, and I'll provide the WAY!
DEAL!?
Maybe you're worried that you don't have the time. I get it! I'm a busy mom of 4, and it can be done. You just have to adjust your priorities a little and put yourself at the TOP of your list! Two and a half years ago I stopped putting myself dead last, and my life has done a complete 180! When I spent some time working on me, the result was that everyone got the BEST of me! I'm a better mom, wife and friend, and it's because I started taking care of myself along with everyone else.
Now it's YOUR turn!
Starting Monday, April 6, let's get down to business!
Where do you want to be in June? Do you have a favorite sun-dress or summer outfit that is hanging in your closet that you are desperate to wear this year? Focus on that, and let's get to work!
Some fellow coaches and I are going to be hosting a private support & accountability group on Facebook. We'll be working out, eating clean, and keeping each other on track for 30 days! We'll be sharing daily tips, recipes and motivation to help you reach your goals.
These groups work so well. Every month I have participants who share such amazing success stories! Losing 10-20 pounds in one month feels incredible. And for many, it's just the beginning of a new healthy lifestyle! Over and over again I hear the same thing from my fellow busy moms. They tell me that it's the first time in a very long time that they've made themselves a priority and that it feels AMAZING! They have more energy and confidence and just have a more positive outlook on life in general. It's so empowering!
As your coach, I will help you choose a workout and/or meal plan option that will work best for you! There are some GREAT sales going on right now! Save $90 on Turbo Fire (one of my FAVORITE workouts – helped me lose 16 pounds!), Focus T25, and the brand new option: BEACHBODY ON DEMAND (#BOD)! This month, when you try Shakeology, you'll get your first 3 months access to the entire Beachbody On Demand library for FREE! It's all part of the Beachbody Club Challenge Pack offer. I've been having a lot of fun with On Demand workouts all from my laptop, phone, tablet and smart t.v.! And we have even put together a 30 day hybrid workout plan for you to use (if you want to) all from different workouts that are available On Demand! 🙂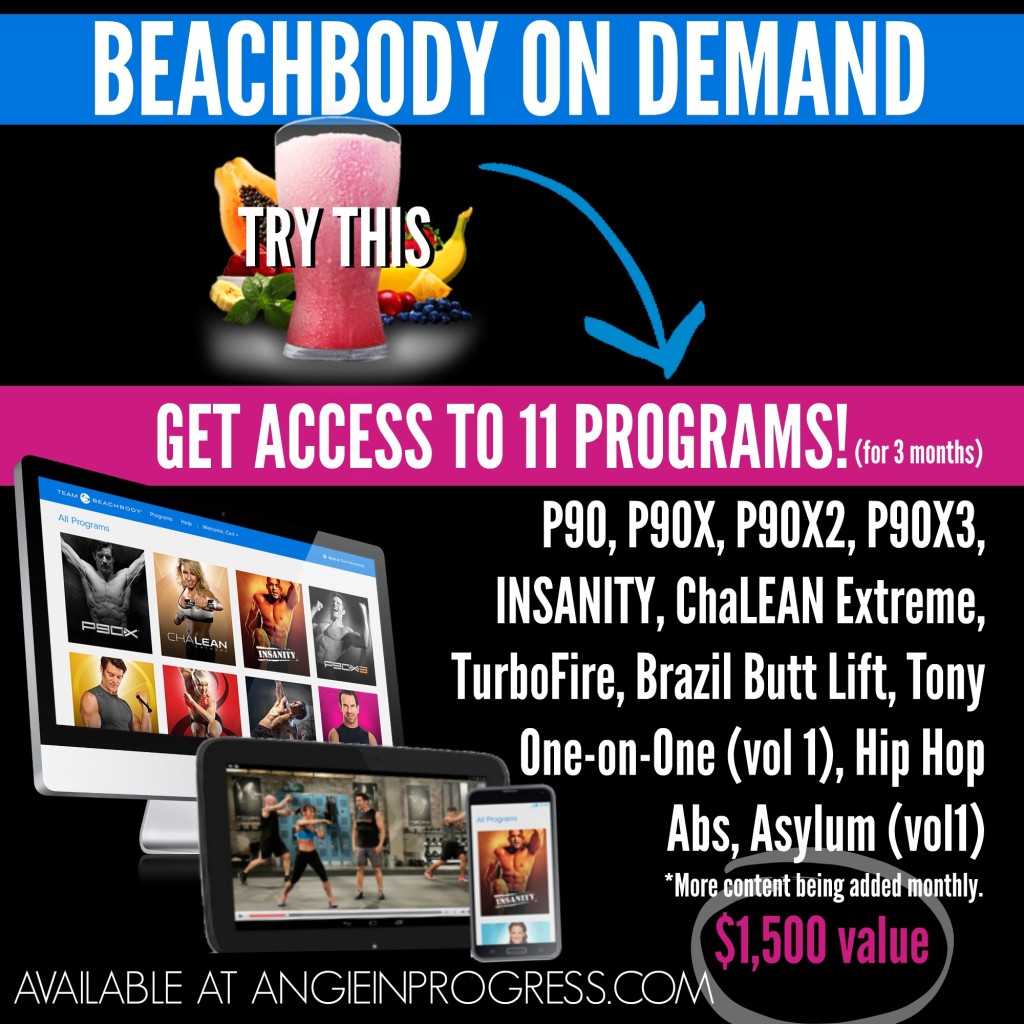 There are LOTS of other options too…no matter what you might like (cardio, weights, stretching & strengthening, or all of the above!) So, if you are ready and you would like to join me in my April 6th challenge group and get even more support and accountability to help you reach your health and fitness goals this spring please complete the application below.