I'm half Irish, but man O'man my ancestors ate a lot of starches and fatty meats! And of course, they washed it down with lots O'beer! So, when you're trying to keep it light on St. Patty's Day…it can be a little tricky.
Tomorrow, we're going with a healthier version of Shepherd's Pie! I've made this recipe several times, and we all LOVED it! *Inspired by a recipe from Skinny Taste.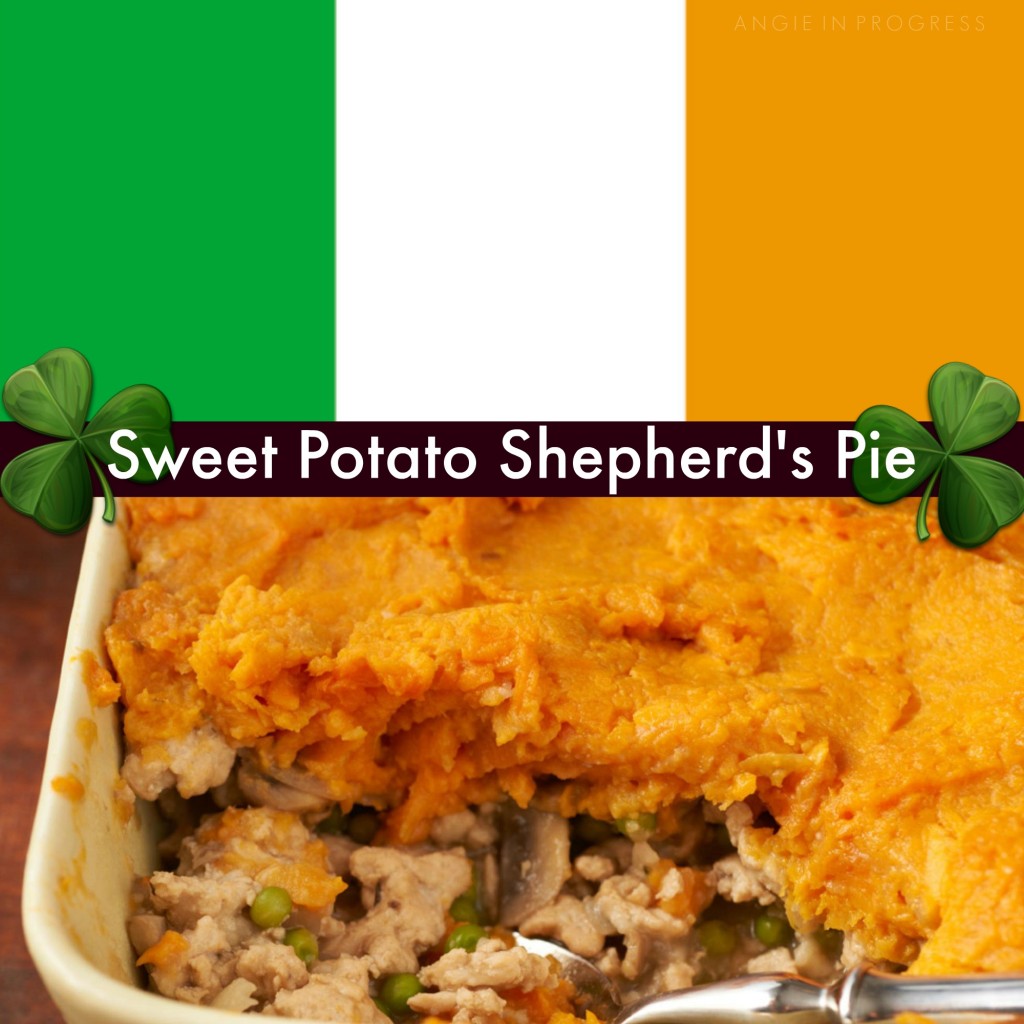 Turkey & Sweet Potato Shepherd's Pie
Ingredients:
For the potatoes:
3-4 medium sweet potatoes, peeled, diced
3 cloves garlic
1/2 cup low-fat milk
1/4 cup low-sodium chicken broth
2 tbsp Greek yogurt or sour cream
salt and pepper to taste
For the filling:
apx. 1 lb 93% lean ground turkey
1 tsp olive oil
1 medium onion, diced
1 celery stalk, chopped
1 parsnip, peeled and diced
2 cloves garlic, diced
10 oz frozen mixed vegetables
2 tbsp flour (leave out to make gluten-free)
1 cup low-sodium chicken broth
2 tsp tomato paste
1 tsp Worcestershire sauce
1 tsp freshly chopped rosemary (or a little less dry if you don't have fresh)
salt and pepper
paprika
Directions:
Boil sweet potatoes and garlic in a pot of salted water until cooked and soft. Drain and mash with chicken broth, Greek yogurt or sour cream, salt and pepper.
Preheat oven to 400°F. Spray a 9×13″ pan with non-stick cooking spray.
In a large pan cook turkey until evenly browned; season with salt and pepper. Set aside. Add olive oil to the pan, then add the onion and sauté for one minute. Add the celery, parsnip, salt and pepper to taste; cook about 12 minutes, until celery is soft.
Add garlic and sauté another 3-4 minutes. Add flour, salt and pepper and mix well. Add frozen vegetables, chicken broth, tomato paste, Worcestershire sauce, rosemary, cooked turkey, and mix well. Simmer on low about 5-10 minutes.
Spoon mixture into prepared baking pan, and top with mashed sweet potatoes. Sprinkle with paprika and bake for 20-30 minutes or until heated through and potatoes turn golden.
Sláinte!
21 Day Fix Containers: 1 Green, 1 yellow, 1 red
For more healthy, family-friendly recipes, check out my weekly meal plan!