I'm getting pretty excited about this one! 🙂
"PiYo gives you hardcore definition, intense calorie burn, and allover strength—without weights, without jumps, and without destroying your body." -Chalene Johnson (creator of PiYo)
Are you on my list yet to be notified as soon as it's available? You should be on the list cause guess what…you can get it 2 weeks earlier than everyone else when you order through a COACH (like me)!
What is included in PiYo?
PiYo comes with 8 different workouts that you can do right at home. They are 25 to 45 minutes long, and vary in the target areas they hit. PiYo will be available to Beachbody Coaches exclusively at Coach Summit in Las Vegas which is just 23 days away! The base program will sell for $59.85! And IF you purchase from a Beachbody Coach (like ME) you will receive a BONUS workout!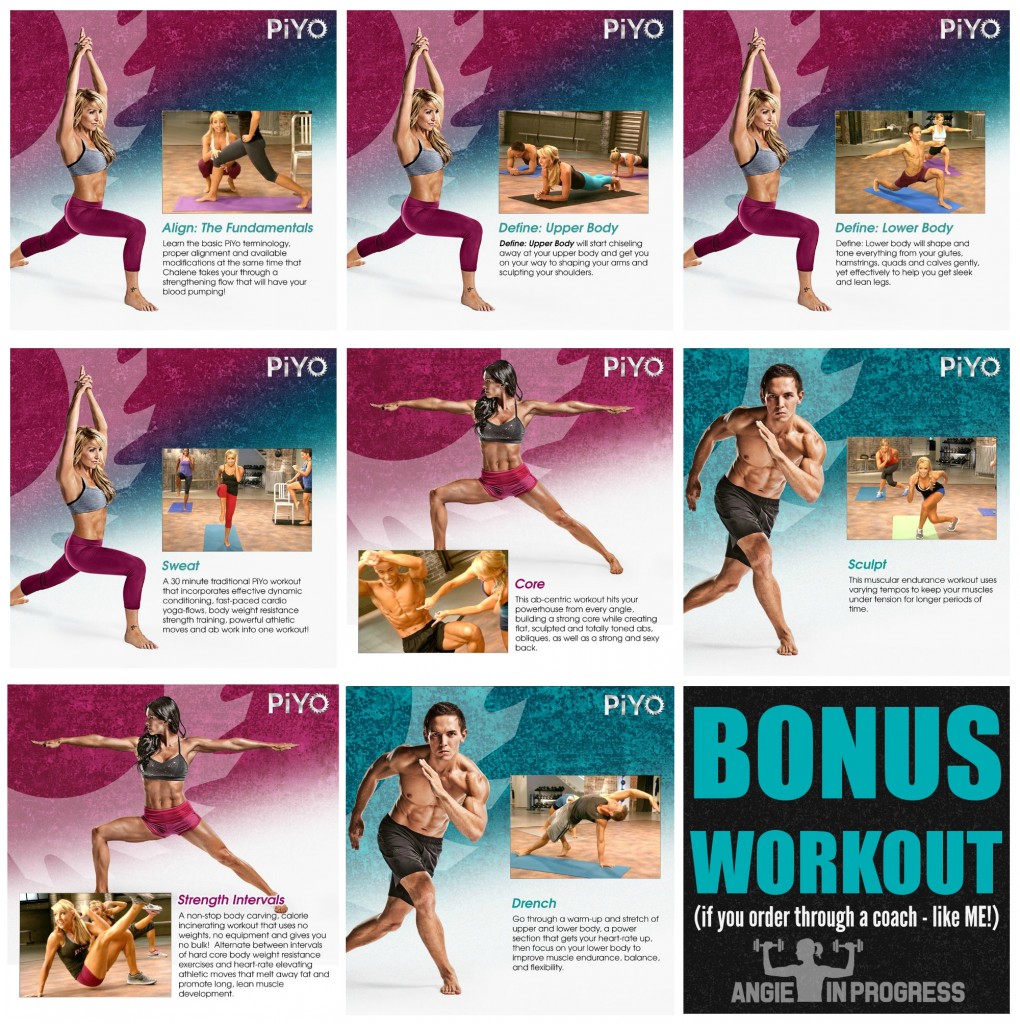 Here is a description of the EIGHT/9 workouts:
First up, Align: The Fundamentals (46 mins)
Define: Upper Body is a focused workout (35 mins) that will strengthen and stretch your entire body, while building on the movement patterns you have learned in Align.
Define: Lower Body (25 mins) will shape and tone everything from your glutes, hamstrings, quads and calves gently, yet effectively to help you get sleek and lean legs.
Sweat (35 mins) is a traditional PiYo Workout that is fast paced with body weight strength training and ab work!
An amazing 30 minute Core workout that will hit every muscle in your POWERHOUSE!
PiYo Sculpt (30 mins) uses body weight to generate muscular endurance to stimulate metabolic changes to totally and utterly transform your figure!
Strength Intervals (25 mins): 25 minutes is all you need of this body carving workout!
Drench (45 mins): This workout not only leaves you drenched, but your metabolism will have been kick-started to ensure you scorch away fat!
BONUS Workout when you order through a coach (Like ME!)
Check out this video preview!
What about results?
Want to be part of my first TEST GROUP!?
The earlier you save your spot, the better! I believe this group will fill up fast! Fill out the application below!