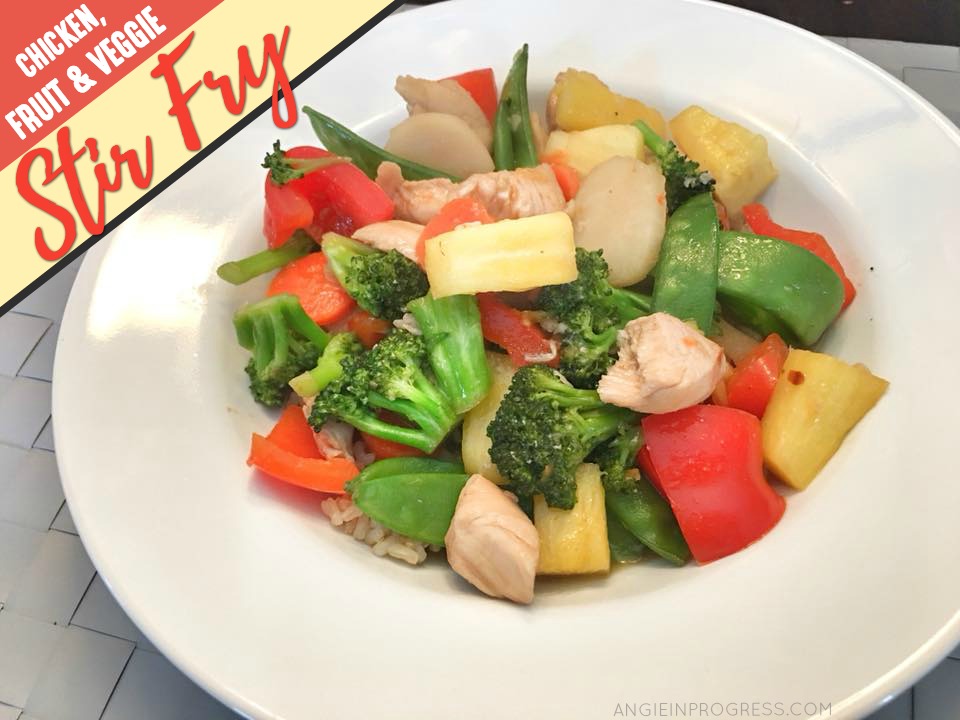 It's been awhile since I shared a recipe. You won't believe how easy and delicious this is! This received rave reviews from the family! As always, I started with a recipe in my hand, but then quickly put it down and went my own way with it. 🙂
I think the key here is to let your chicken marinate for at least 30 minutes, but up to 8 hours. Then you'll just need to chop up your veggies and pineapple and throw it all together.
INGREDIENTS:
1 T. sesame oil (or coconut oil)
1/3 cup liquid aminos or low-sodium soy sauce
1/3 cup chicken broth
1/4 cup raw honey
3 cloves garlic, minced
1 tsp fresh ginger, grated (you could use dry if you don't have fresh)
1/4 tsp crushed red pepper flakes
1 1/2 lb boneless, skinless chicken breasts (about 4 breasts), chopped into 1-inch pieces
1 medium bell pepper (any color), cut into 1-inch chunks (about 1 cup)
1 head broccoli, chopped into florets
2-3 carrots peeled and sliced
1 fresh pineapple, cut into 1-inch cubes
1/4 c. water (or broth)
1 T. corn starch
Serve over cooked brown rice, quinoa, or eat as is.
*optional extras: bamboo shoots, snow peas, water chesnuts, green onions (hubby doesn't like them, but they would be good), almonds or peanuts
Notes: If you like your Chinese food a little 'saucy', double the sauce. And if you like it more spicy, add more crushed red peppers. Make it your own! 🙂
INSTRUCTIONS:
In a small bowl, whisk together aminos/soy sauce, broth, honey, garlic, ginger and pepper flakes. Place chicken in a large shallow dish or Ziploc bag. Pour soy sauce mixture over chicken, tossing gently. Cover and refrigerate for at least 30 minutes or up to 8 hours.
Heat oil in a large non-stick skillet over medium-high heat. Add chicken and marinade and sauté for 5-10 minutes or until chicken is cooked through. Remove chicken from pan and reserve. Add broccoli and cook for about 3-5 minutes. Then add the sliced carrots and bell peppers and cook for 5 minutes or until vegetables are slightly tender. Add pineapple and cook for 2 more minutes. Add reserved chicken back to the pan. Whisk together the water (or broth) and corn starch and stir into the pan to thicken the sauce. Serve over brown rice.
This recipe made about 6 servings and fits perfectly in to the container systems for programs like 21 Day Fix and 80 Day Obsession.
Containers for 1 serving over brown rice or quinoa:
1 red, 1 green, 1 purple, 1 yellow, 1 tsp. (I sometimes add a blue container of peanuts to my serving)
Have the programs and the containers but need some help planning, feeling motivated and accountable? Join my next support group for free!