It's well documented that I am in love with making my own salad dressing! It's SO easy, clean, and delicious! It really just takes a few ingredients, as opposed to the bottled dressings that list a PARAGRAPH of ingredients that almost entirely unrecognizable! This is my latest, greatest, bestest, most favoritest homemade salad dressing! This is yet another recipe from the popular 21 Day FIX program. I just modified a few of the ingredients to my taste. 🙂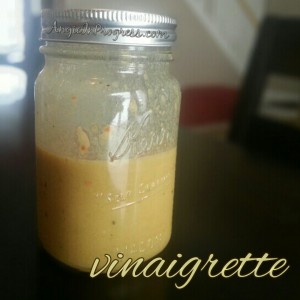 Dijon Vinaigrette
(Makes 8 servings)
3 T. red wine vinegar
2 T. fresh lemon juice
3 T. Dijon mustard
1 T. honey
2 cloves garlic chopped
¼ t. Sea salt (I like to substitute 1/2 t. Mrs. Dash or Spike no-salt seasonings)
¼ t. ground black pepper
6 T. extra-virgin olive oil
Directions:
Combine vinegar, lemon juice, mustard, honey, garlic, salt, and pepper in a medium bowl; whisk to blend.
Slowly add oil while whisking; mix well
Tip: Store leftover dressing in a covered container (I like to use Ball jars) in the fridge. I often double this recipe, because my husband likes to take some of it to work. If dressing thickens when cold, hold at room temp. for 30 minutes and stir before serving.