I don't mean New Year's Eve…I'm talking about after the ball drops. What next?
If you're like just about everyone else on the planet, you're thinking about what you can do this year to make your life better. And if you're like 99% of those people, "health and/or fitness" is probably near the very top of your list! Am I right?
Now you need a plan. Because the problem with New Year's resolutions is that it's one thing to think about what you want to do, it's another thing to write it down and start to plan HOW you'll get there…. and then begin to execute that plan! Most of us get stuck in the thought process, and never turn our goals into action!
Not you…not this year! 2016 is your year to make it happen! And I've got options…but you'll have to hurry!
The new year is RIGHT around the corner. 2015 is in the books. We're putting this year behind us, for better or worse, and focusing on a year full of opportunities! Imagine what you can accomplish in the next 366 days! (LEAP YEAR BABY!)
I've made it my job to help people find success in programs that can be done at home, on your time – no need for a pricey gym membership or fancy equipment.
So here's what I have going in January:
OPTION #1
Starting January 4th: The Master's Hammer & Chisel VIP Test Group
This group is for anyone who wants to join me for 60 days, following this new strength training program that is already getting some AMAZING results!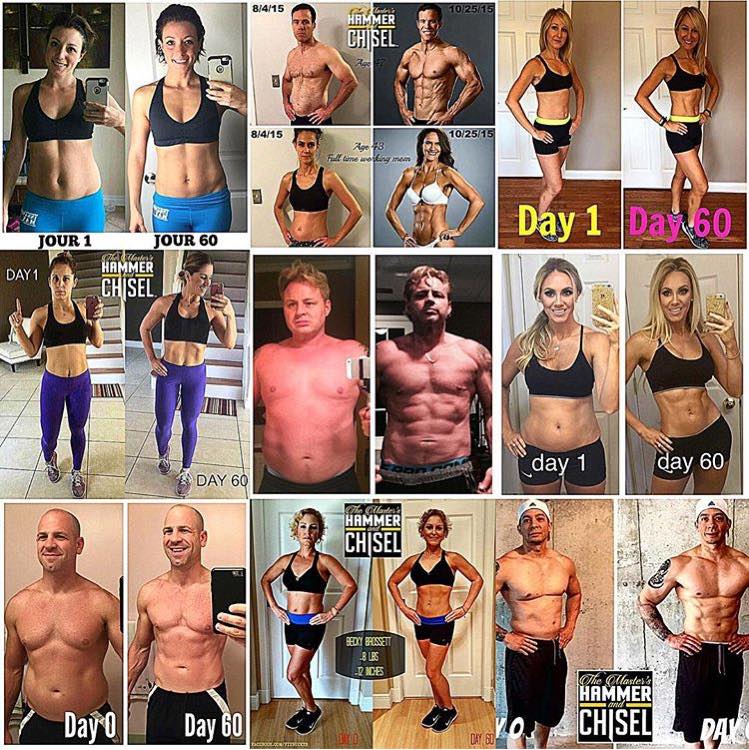 Act fast to take advantage of the sale prices when you purchase the Challenge Pack (with Shakeology) or the Performance Pack (with pre-workout "Energize" and post-workout "Recovery" supplement formulas). You'll save about $80 with these bundles AND you'll also get 30 days FREE access to Beachbody on Demand, a free bonus workout plus discount shipping.
Check out this quick video for more information:
See the links below to order or learn more!


OPTION #2
Starting January 4th: Fit & Lean in 2016
This 21 day group is for ANYONE doing any program! Most participants will be using the 21 Day Fix, because…IT IS PROVEN to work time and time again! Women who follow this program generally lose up to 3-5 pounds per week. You'll get a simple meal plan, which includes handy, color-coded portion control containers (no counting points or calories! If it fits, you can eat it!). *There's even a container for wine and chocolate! 🙂 Combine that with daily 30 minute workouts and you get results like this!
Check out the links below!

And finally…OPTION #3
Starting January 1st! Step into 2016!
This free group is for anyone who has some step goals for the new year! (using FitBit, VivoFit, Apple Watch, etc. to track)

So…what's it going to be? Pick an option and let's resolve to reach our goals in 2016!