Quick second blog post today cause I shared my lunch on Facebook and lots of people wanted the recipe. This seemed easier than privately messaging everyone who asked for it.
Remember back in college when we were dirt poor and didn't know how to cook?!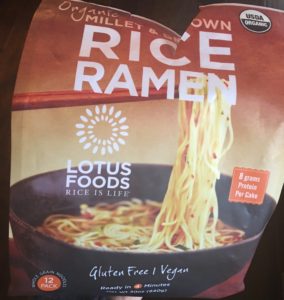 Ramen to the rescue!
This isn't the ramen we made in college…
But it's become my new obsession! I've made this at least three times in the last week.
I buy millet and brown rice ramen at Costco (no sodium packets included). And then I use my own broth and fixins to make it deelish! This took me about 10 minutes start to finish! Less than 300 calories and 8 grams of protein in the noodles alone.
My Health Ramen Lunch
*serves 2 (or 1 if you you're hungry and/or don't like sharing)
Ingredients:
1 t. sesame oil (or your fave oil)
2 cloves garlic – minced
1/4 tsp ginger (I used powder. Fresh is always nice.)
2 cups broth (chicken, veggie, whatever)
1/4 cup sliced mushrooms (fave variety)
1 T. reduced sodium soy sauce or liquid aminos
1 ramen cake (I use Lotus Foods millet and brown rice)
1 cup leafy greens (spinach, kale, etc)
1 carrot – grated
2 green onions – sliced
1 hardboiled egg (or lean protein of your choice, or skip it!) 😉
Directions:
Heat oil in sauce pan over medium heat. Add garlic and ginger. Saute, stirring frequently, untilfragrant (1-2 minutes).
Stir in broth, soy sauce and add mushrooms. Bring to a boil.
Add ramen cake. Reduce heat and cook for 2-3 minutes until loosened. (Follow the directions on the package.)
Add greens, carrot and onions. Stir until greens begin to wilt (1-2 more minutes).
Just for fun…let's compare the nutrition labels! Pay specific attention to the ingredients! And sodium! OMG!
College:
More ingredients than I can count or pronounce! And 830 mg of sodium!!!??? In HALF of a serving! And everyone knows if you're making a package of ramen, you're eating the whole thing! That's 1660 mg of sodium! The American Heart Association recommends an ideal limit of no more than 1,500 mg per day (no more than 2,300 milligrams (mgs) a day).
Not College:
2 Ingredients: organic brown rice flour and organic millet. Sodium: ZERO mg. Ummm…ya…no brainer here. And here's the thing, it tastes amazing!
If you try it, leave a comment below and let me know what you think. 🙂