The key to making fried rice like you get in the restaurant, is using cold rice! So first, you have to 'accidentally' make too much rice for dinner some night. THEN, a couple of nights later, you have to remember that you MEANT to do that, so that you could make some fried rice! I used brown rice that I cook in my Instant Pot, because that thing RULES! I could NEVER cook brown rice right until I got one of those babies! Now, that's ALL I make! Go ME!  You can eat this as a main dish, OR as a side dish with some delish Asian-inspired entrée! Either way, it's a crowd-pleaser. 🙂
Chicken Fried Brown Rice with Veggies!
serves 4
Ingredients:
1 T. coconut oil
1 medium onion, chopped
2 large egg whites
1 ½ cups cooked brown rice, cooled
8 oz. cooked boneless, skinless chicken breast (chopped)
8 oz. frozen peas (about 1 cup)
2 carrots cut into small coins (about 1 cup)
*or just add 2 cups frozen mixed veggies (or any veggie combos you like)
2 T. reduced sodium soy sauce, or Bragg's liquid aminos
1 green onion, sliced thin (for garnish – optional)
Preparation:
1. Heat oil in large nonstick skillet over medium-high heat.
2. Add onion; cook, stirring frequently, for 4 to 5 minutes, or until onion begins to soften. Reduce heat to medium.
3. Add egg whites; cook, stirring frequently, for 2 to 3 minutes, or until eggs start to set.
4. Add rice, chicken, peas, and soy sauce; cook, stirring frequently, for 3 to 4 minutes or until heated through.
5. Divide evenly into four serving bowls; garnish evenly with green onion.
享受!(I think/HOPE that means, "Enjoy!") 🙂
Portion containers: 1 red, 1 yellow, 1/2 green, 1/2 blue/orange
*252 calories and 23 grams of protein per serving
The 21 Day Fix meal plan makes it SO easy to plan, prepare and track daily nutrition. Women I work with lose up to 3-5 pounds per week! Combine the nutrition with daily 30 minute workouts and you'll see results (or your money back!). GUARANTEED!
Check out my friend Michelle's results after 2 rounds of the 21 Day Fix. She joined a challenge group (see below) and the daily support and accountability helped her reach her goals!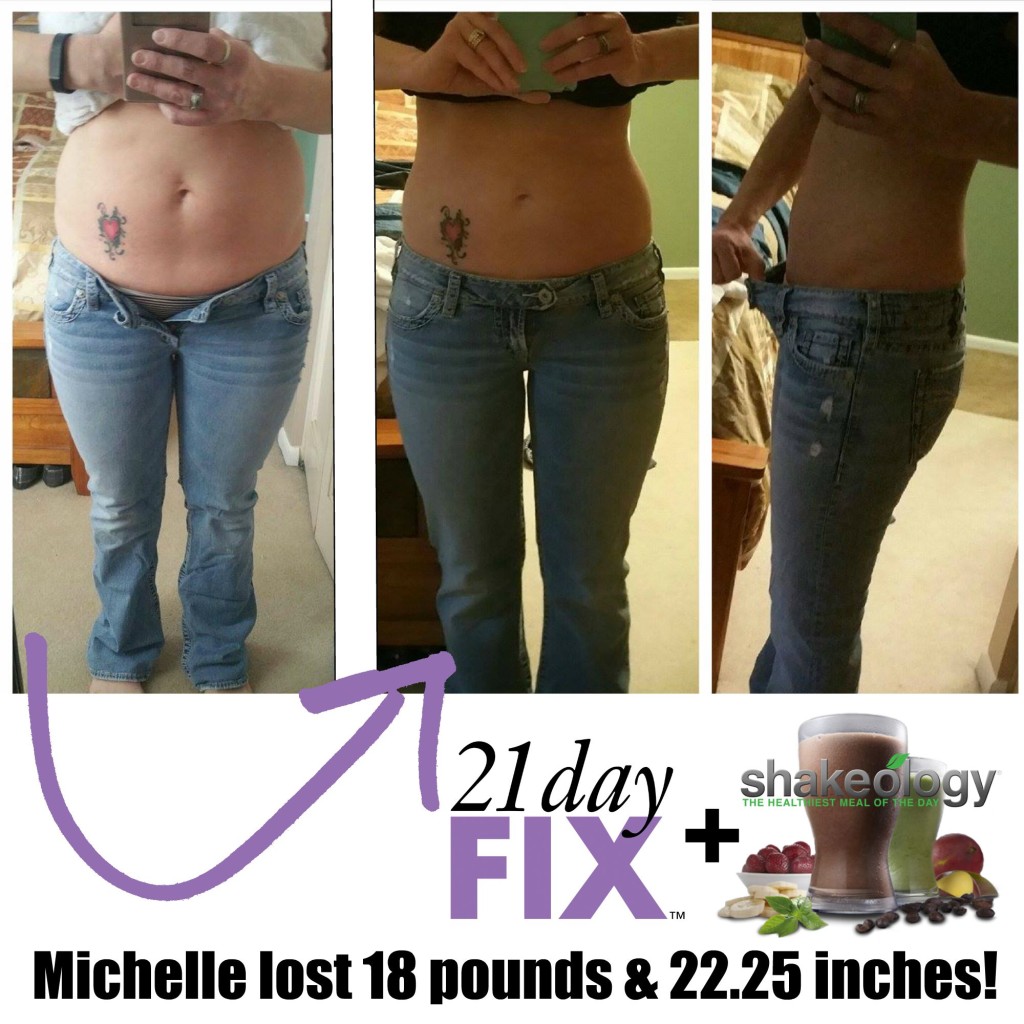 And the 80 Day Obsession program uses the same container system (cause it works!) combined with 30-40 minute strength training workouts for AMAZING results!
PS – BOTH of these programs and hundreds more are NOW AVAILABLE with the all new all new Annual ALL ACCESS Beachbody on Demand Membership (like workout Netflix)! Get 12 months ALL Access to every Beachbody Program ever made, including all new releases, for 12 months!
Do you already have BOD or a Beachbody program? If you need some extra support and accountability, be SURE to join my next support group and I'll help you stick with it and reach your goals! I'll share daily tips, recipes and motivation as well as be available to support and encourage you 24/7. 🙂