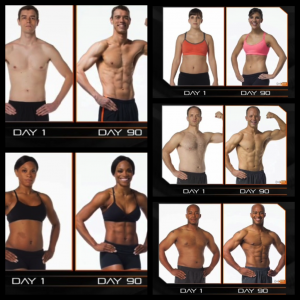 If you've been following along, you know that I started P90X3 this month, and I'm just winding down my third week with 9 other Test Group participants. Next week is a transition week, so I'm looking forward to trying out some new workouts! The results are rolling in, and the reviews from my group are unanimous: WOW! We are all loving the program for so many reasons:
VARIETY – Every workout is full of a wide variety of exercises. And every day of the week is a different workout!
TIME – Every workout is 30 minutes! This has totally eliminated the "I just don't have time" excuse! These are moms and dads, full-time job holders, and parents with busy, active kids…and we're all finding time!
EFFECTIVENESS – Yes, the workouts are short. You're in and out in a half hour. BUT, they are just as effective (if not more) as a longer workout. And you'll feel it the next day.
FOR EVERYONE – I strongly feel like anyone can do this workout! My 64-year-old mom just started it this week! There is a modifier in every workout who shows how to do each exercise with modifications like: bands instead of weights (or pull-ups), no jumping, no weights, etc…
RESULTS! – Let the numbers speak for themselves! These are results after only 2 weeks!
2 WEEK RESULTS
Amanda: 7 pounds, 4 inches
Michele: 4.2 pounds, 6 inches
Stacie: 3 pounds, 4.5 inches
Jeremy: 6 pounds and 5.5 inches
Jody: 3.2 pounds, 4 3/4 inches
AMAZING!!!
Listen to what Amanda had to say after the first week:
"I started the 30 day P90X3 challenge with Shakeology and clean eating and I lost 6 pounds my first week! I am a at home mom who is tired of the leftover baby weight. I had tried to eat "healthier" and lost a few pounds here and there, but it was a real struggle. Shakeology made all the difference. Also knowing that I don't have to cook or fix one meal a day, is awesome! Try it for a month and see the difference it makes in your weight loss/fitness journey!! What do you have to lose but the weight."
GOOD NEWS!: I am opening up a few more spots in the test group! Now is the time to jump in and get started on your fitness goals. Get the motivation and support you need to start and finish! In 90 days, just imagine what you can achieve! And just in time for warm weather wear! I am so excited about this program because it fits into anyone's busy life! If you'd like to join, fill in the information below. Spaces will be limited. First to commit are in!
SALE: One week left! You can take advantage of the sale on the Challenge Pack (includes Shakeology) through the end of January – $180, a savings of $100 vs. buying each separately! That's $2/day, over a 90 day program! Think of all the ways we waste $2/day, and turn those 2 dollars into a life-long investment! This program is worth SO much more than that! Order soon, and you'll be ready to get started on February 3!
Preview Video