FITNESS + NUTRITION + SUPPORT = SUCCESS!
The 30 Day Challenge will have you charged up and seeing results in a short amount of time, whether you are starting to work out for the first time or looking to step up your exercise routine! Previous challengers have lost up to 5-7 pounds per week, not to mention inches! Can you imagine?!

TESTIMONIALS
Since I started, I've lost 22 pounds and about 16 inches. (Chalean Extreme, TurboFire, Les Mills Pump & Insanity + Shakeology)
Jen has lost 24 pounds and 21 inches! (Chalean Extreme & cardio + Shakeology)
Michele has lost 21 pounds and 23 inches! (Chalean Extreme, Turbo Fire, Hip Hop Abs + Shakeology)
Gretchen is down 27.5 pounds since she started a few months ago! (Turbo Fire & Yoga)
Barb is 62 years old and so far has lost 17 pounds and 19 1/2 inches! (Walking, body-weight exercises & Tai Cheng + Shakeology)
My mom, age 63, is down 7 pounds and 6 inches, and looks & feels better than ever! (Slim in 6, Turbo Fire, Chalean Extreme and running)
Lisa went from a size 14 to a size 8 and is down a total of 24 inches! (Chalean Extreme + Shakeology)
Jessica has lost 12 pounds and over 11 inches and is close to being as fit as she was when she was a college athlete! (Les Mills Pump & cardio + Shakeology)
"I have absolutely loved being part of this group! The accountability is what drove me a lot of the time. Can't tell you how many times I didn't feel like working out, or felt like I wanted "just a bite" of something, but knew I'd have to mention it here if I did. Happy with my numbers. Now I'm going to continue with my next two circuits of Chalean Extreme."
"I feel like I have learned about a new healthy lifestyle and not about a fad diet. That is what I needed. I am thankful for all of the support that I received and all of the new FB buddies that I met  I am very happy with my results and I can't wait to continue! I am going to keep eating clean and rockin' the workouts [hopefully at a much higher intensity when my darn ankle heals] All and all, I am a happy camper!"
Sherri lost 8 pounds and 6 inches!  "I have to say this challenge was awesome. Thanks so much for letting me in this group…My weight loss has even inspired my husband which makes it funner/easier for me to keep up with this." (Chalean Extreme AND Shakeology)
"I feel great . I really do owe it all to this group and Angie's "push". It's extremely motivating. I highly recommend this to everyone!! The most important thing I have learned is good eating habits and healthy food ideas from what everyone in the group posts. And Shakeology!! I almost didn't buy it but am glad I did. That stuff really works… fills me up, gives me energy and gets rid of that afternoon nappy time."
"Tomorrow marks one year since I started my 30 day challenge so here's the long term update. Workouts have stayed on track. In the year I haven't taken 2 rest days in a row – huge success! …Health and wellness are a journey – this challenge was the jump start I needed. Thanks!"
Amy has lost 14.5 pounds, 16 inches, and 14% body fat with Chalean Extreme and Shakeology! "I have truly enjoyed being a part of this group. The weight and body fat really fell off. Thanks, Angie!"
Cindy: "I have enjoyed the group for daily motivation. Mostly I love the accountability. The group and the daily checking in keeps me on track! I started participating in Angie's group in December and so far I am down 9 lbs total, 6 inches, and one pant size. I definitely think I look more toned- which is a result of weight lifting- Chalean extreme. Next week I will start the 3rd month of Chalean Extreme. Contemplating doing the 21 Day Fix next!"
Kathy: (After just ONE week of The 21 Day Fix) "Just finished the first week of the Fix…lost 13 lbs (had to check the scales  ) in my first week!!! Love the Fix!"
6 weeks in to P90X3 – Test Group Results
Amy is down 5 pounds and 6.5 inches.
Dana is down 3 pounds and 6 inches.
Stacie is down 6 pounds and 7 inches.
Jeremy is down 11 pounds and 8 inches
Amanda is down 9 pounds and 7 inches
Bryanna wasn't trying to lose anything, but gain strength. On day one she couldn't do a single pull-up and now she's up to THREE unassisted pull-ups!
Before/After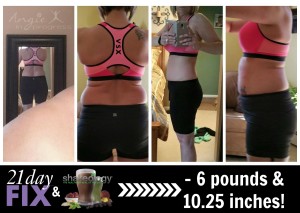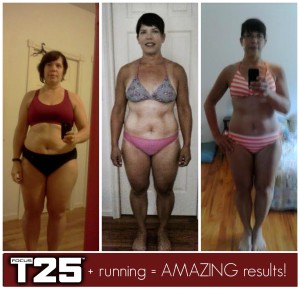 My Personal Results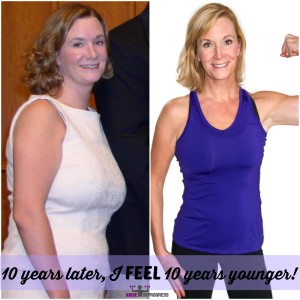 When is a Challenge Group?
Every month! So you can sign up anytime!
Who?
Anyone! Whether you want to lose weight, tone up, gain muscle mass, or improve your health, flexibility and focus we can customize a 30 day program for you!
Where?
Unlike most challenges you do this right in your own home! You don't have to have any special equipment prior to the challenge, but if you do have equipment we can incorporate that into your program as well.
What is a Challenge Group? Why does it work?
The challenge focuses on your individualized goals. Before the challenge begins, we will identify your health and fitness goals. You will be part of a small accountability group on Facebook, with 4-6 other challengers. We'll figure out how many calories you need to be taking in each day for optimal results. As a starting point, we will take our measurements, a before picture (that does NOT need to be shared with the group at any point), and weight on Day 1.
During the challenge we will follow our individualized workouts, meal plans, and log them in our private group. Each week we will have a progress check-in. You do not have to share your weight or measurements with the group, but it's fun to share your progress as you go! You should plan to work out about 5-6 days a week, and eat clean, healthy foods as much as possible! At the end of the challenge, we will take our measurements, picture, and weight again.
To Participate in a Challenge Group
Fill out this APPLICATION and I'll help you get started towards reaching your goals!
*Disclaimer: I am a Beachbody coach and healthy living blogger. Please consult your doctor before beginning any program and follow the disclaimer before any workout.