These pictures were about 1 1/2 years apart but there is a world of difference – both in what you can see, and what you can't see.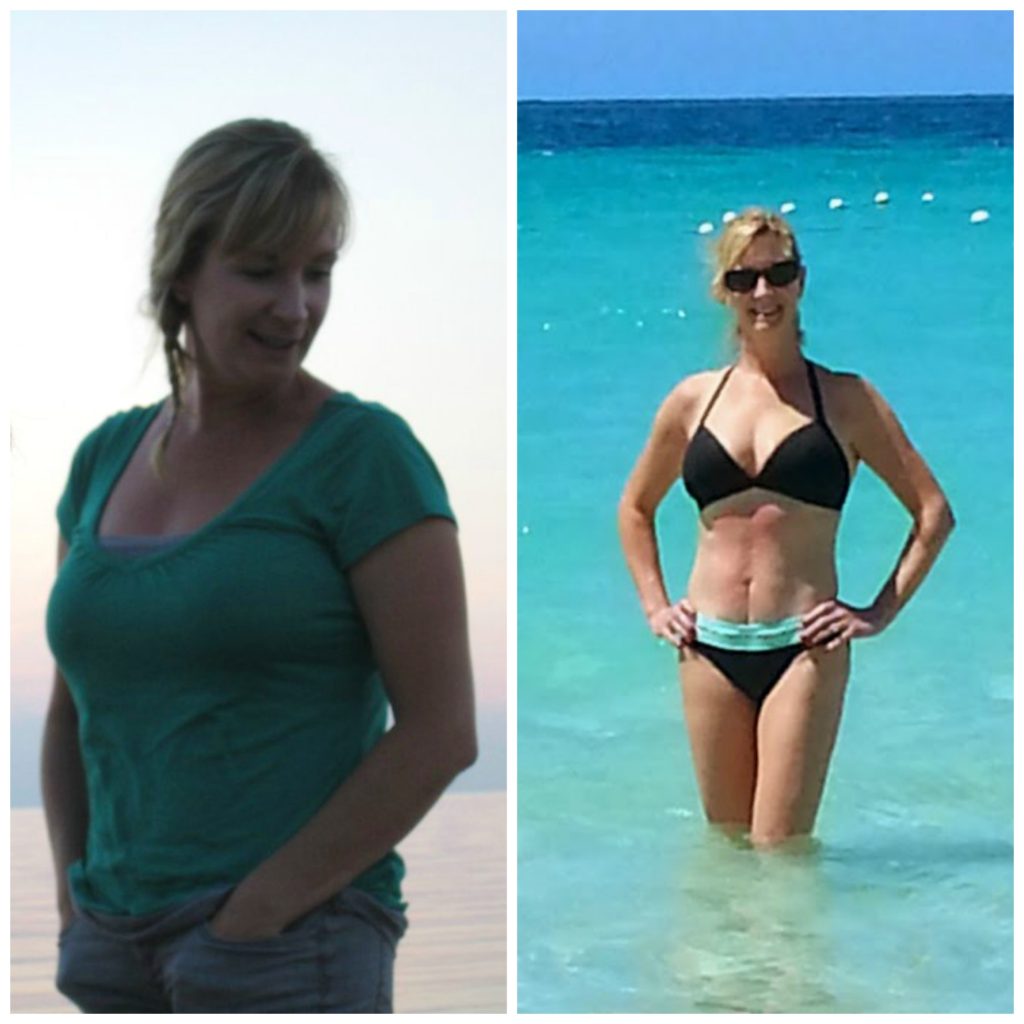 About 4 years ago I took a look at myself in the mirror and decided I was finally done being unhappy! I had been stuck in a rut for FAR too long. Looking at pictures of myself from our summer vacation really opened my eyes to what was happening. It was slow, but I was steadily gaining weight and finding it harder and harder to fit and feel comfortable in my clothes.
There were a lot of things I didn't want to admit to myself. I wasn't REALLY giving it my all with workouts anymore. I was just kinda going through the motions. I wasn't REALLY eating all that healthy. There was a lot of processed garbage finding its way into my grocery cart. Convenience trumped health. I was complacent, uncommitted and UN-motivated!
I think you go through phases when this starts to happen.
1. DENIAL: It's my clothes. They shrunk. My scale must be off! (Don't tell me you haven't tried to convince yourself with these same lies!)
2. AVOIDANCE: Scale? What scale? I like baggy, stretchy clothes anyway.
3. DEPRESSION: Why is this happening?! I workout! I eat 'pretty' healthy food. It's not fair! Get away from me with that camera! WAHHH!!! I'm going to assume the fetal position in a dark room. Leave me alone!
4. DEFEAT: Well, what the hell. I'm getting older. This is just what happens. There isn't ANYTHING I can do about it. I'm not going to live the rest of my life worrying about it. I want to ENJOY life and eat whatever the hell I want. Working out is stupid. I don't care anymore.
5. REALIZATION: I feel like shit. I don't fit into any of my clothes. I'm tired all of the time. I'm not enjoying life at all right now! I'm sick of feeling like this. I gotta do something!
What stage are you in? If you're in 1-4, let me save you the trouble and spoil the ending. You'll eventually get to #5, because no matter how hard we try to convince ourselves that we can't, or don't want to feel look and feel healthy, we do. You're not kidding anyone (or yourself) when you say otherwise. I know…I tried!
There's a happy ending though!
🙂 I had to dig deeper than ever, and really connect with WHY I wanted/needed to make some changes, and really give it my absolute, 100% ALL!
If this resonates with you at all…I would love to help you find your path to feeling better and more confident in your summer vacation pictures! My new group: "2017: This Will Be MY Summer!" group starts on April 3. Sign up below!