I've made this twice in the last 3 days, so that oughta tell you how delicious it is. My husband was actually a little worried that I might O.D. on it! Too much cabbage for one person can be a little scary! But OMG! It was so delicious! I made a big HUGE batch of it for meal prepping on Sunday, so that I could dip into it through the week.
So… here's how it went down.
It all started with NO TOMATOES! I almost always have tomatoes on hand to make my staple Greek salad. I seriously eat a Greek-inspired salad at least 3-4 times per week. So when I was in the mood to munch of fresh greens the other day, and I looked over at my EMPTY tomato bowl, I PANICKED!
I scanned the frig and pantry and came up with some bags of kale from our local CSA farm, a head of cabbage, a big bag of carrots, pepitas (pumpkin seeds) from Costco and some organic dried cranberries. It was looking promising!
Before we go any further with this recipe, you're going to need to know how to massage your kale! WHAT?! I know, it sounds crazy. But there are a lot of people that thought they HATED kale because it was so rough and coarse, but if you just show it a little love, it'll turn into something much more palatable and delicious! Watch and learn:
The amounts aren't really set in stone. I am the queen of 'add a little of this and a little of that' and don't always measure. But if I had to make my best guess, here goes…
Ingredients: for 2-4 servings
Dozen stems of curly kale (remove from stalks, chop and massage)
1/4 head of cabbage (chopped small)
3 carrots (shredded)
1/2 cup pepitas
1/2 cup dried low/no sugar cranberries
Dressing: Homemade Creamy Garlic Dressing (this stuff is the BOMB! – seriously drinkable!) Just 2-3 tablespoons will do.
Directions:
Umm….just toss it all together and try not to eat the whole dang bowl!
Containers (21 Day Fix/Hammer & Chisel): 2 greens, 1 orange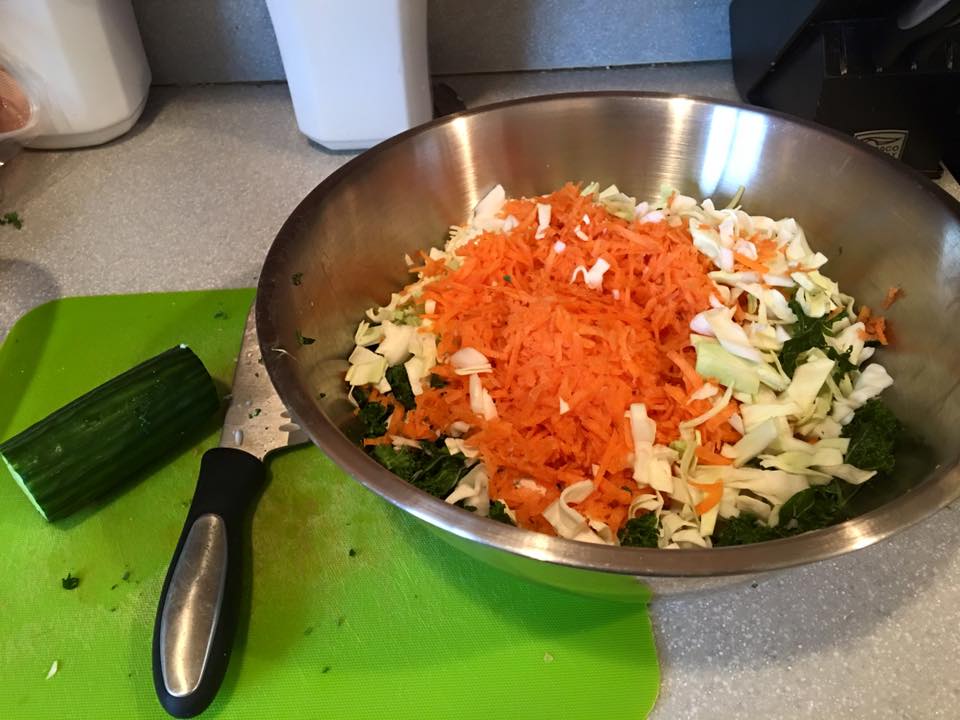 *The kale and cabbage stand up nicely to the dressing, so it doesn't get soggy even a few days later! A lettuce salad would be pretty limp and wilty by then! My husband loved this salad, too. It's nice and crunchy and the flavors are…AHHH!!! Just try it! I promise, you'll love it! Feel free to get creative! What else would be good?
---