Tried a new pancake recipe. And of course, I changed it up a bit!
They were really tasty!
Fresh berries would have been a great addition, but alas…my kids ate them all! Instead, I opted for a drizzle of 100% maple syrup. Yes, they're green – but you won't even taste the 'healthy stuff' that makes them that way. If you or your kids are veggie challenged, this is a great way to sneak em in! Just tell your kids they're Hulk pancakes or something – they'll love that!
Oh and they're gluten-free (if you're in to that kind of thing)!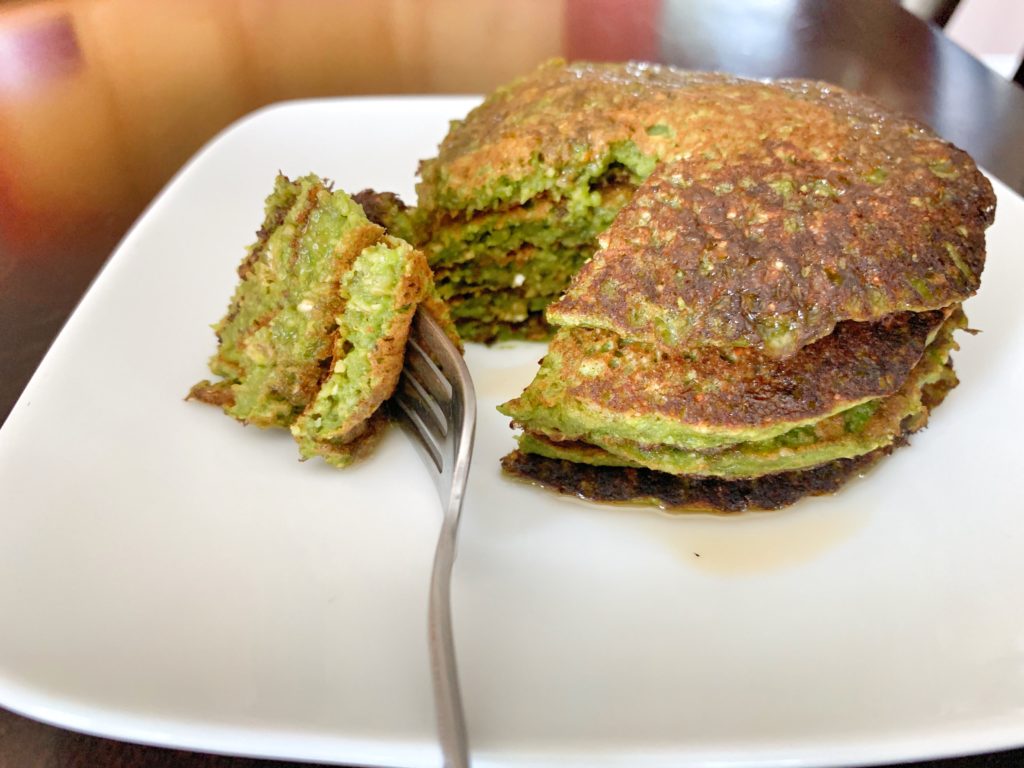 Ingredients
1 ¼ cups old-fashioned oats (or oat flour)
2 TBS ground flaxseed
1 tsp baking powder
½ tsp baking soda
½ tsp sea salt
2 TBS coconut sugar
½ tsp ground cinnamon
¾ cup milk (I use unsweetened almond milk)
¼ cup plain Greek yogurt

1 banana

1 cup spinach



1 teaspoon pure vanilla extract
1 large egg
cooking spray
Instructions
Place the oats in your blender (or food processor) and blend until oats become a fine powder and look like flour. (I should have blended mine a bit longer! It might take up to a minute to get it nice and fine. No biggie if you like a little texture.)
Remove oats and place into a large mixing bowl.
Add flaxseed, baking powder, baking soda, salt, coconut sugar and cinnamon to the oat flour and stir to combine. Set aside.
Add milk, Greek yogurt, banana and spinach to your blender.
Blend until mixture is combined and smooth.
Add vanilla extract and egg and pulse until just combined.
Pour wet ingredients into dry ingredients and mix until just combined and lumps are gone.
Heat a skillet or large pan to medium heat and spray with cooking spray.
Let your batter sit while your pan heats up. This will help your pancakes puff up a bit when they cook.
Pour ¼ cup portions of pancake batter onto the griddle about 1-2" apart.
Cook on the first side until the edges become firm and the batter begins to bubble slightly (3-5 minutes).
Flip and cook on the second side until golden brown (about 3-4 more minutes).
Repeat until all the batter has been used!
Serve warm with maple syrup, fresh berries or whatever you like on your pancakes.
ENJOY!
Makes about 12-15 pancakes. Store leftovers in the fridge.