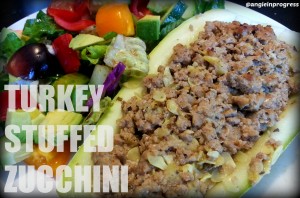 I'm at it again, stuffing stuff! I made these stuffed zucchini last week and they were delicious and totally blog-worthy! I use the term "zucchini" loosely, however. This is actually just a summer squash variety, I can't seem to remember the exact name, that I got from our CSA. These were good-sized squash that I used, so you'll need to adjust accordingly, depending on the sizes you're using for this recipe. We really enjoyed these though! I hope you will, too.
Turkey Stuffed Zucchini
4 Servings
Ingredients
2 large zucchini or 4 medium zucchini
½ small onion – diced
3 cloves garlic – minced
1 C. + 2 T chicken broth (separated)
1.3 lb 93% lean ground turkey (go leaner if you like!)
1 egg white
1/3 C. grated parmesan cheese
1 t. paprika
1t. basil
1 t. oregano
¼ t. cayenne pepper (more or less to taste)
Salt and pepper
Directions:
Preheat oven to 400°. Cut zucchini in half lengthwise and use a spoon to remove seeds and flesh leaving about ¼ – ½ inch thickness around. Arrange in a baking dish. Chop the flesh into small pieces.
In a large sauté pan, cook ground turkey over medium heat. Drain fat (if any) and add onion and garlic. Cook for 2-3 minutes. Add chopped zucchini and the 2T. of chicken broth. Add paprika, basil, oregano, cayenne pepper, salt and pepper. Cook another 2-3 minutes.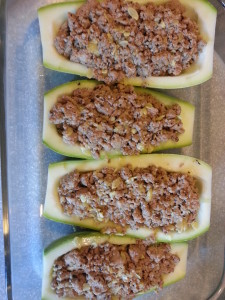 Remove mixture to a large bowl and let sit until it begins to cool. Once cooled – add parmesan and egg white. Toss well. Using a spoon or measuring cup, fill the hollowed zucchinis with the meat stuffing, pressing firmly. Pour the remaining 1 C. of chicken broth into the bottom of the pan and cover tightly with aluminum foil. Bake for 35 minutes.
Nutritional Info per serving:
220 calories, 30 g. protein, 6 g. carbs
Want to sign up for my newsletter for fit tips, recipes and special offers?
[mc4wp-form]