We have been observing Taco Tuesday for many years at my house. But that certainly doesn't mean we're dumping a packet of taco seasoning into a pan of ground beef and ripping open a box of Ortega taco shells. We like to get creative and try all sorts of different taco fillings and methods. And we don't limit ourselves to tacos! Sometimes we'll have enchiladas, taco salad or any other Mexican-inspired dishes that catch my attention on Pinterest. 😉
But these fish tacos are a definite keeper. Three out of four kids and husband agree – and that's a successful meal in my book!
And they are a healthy meal that fits in my nutrition plan!
Try these on your clan and let me know what you think!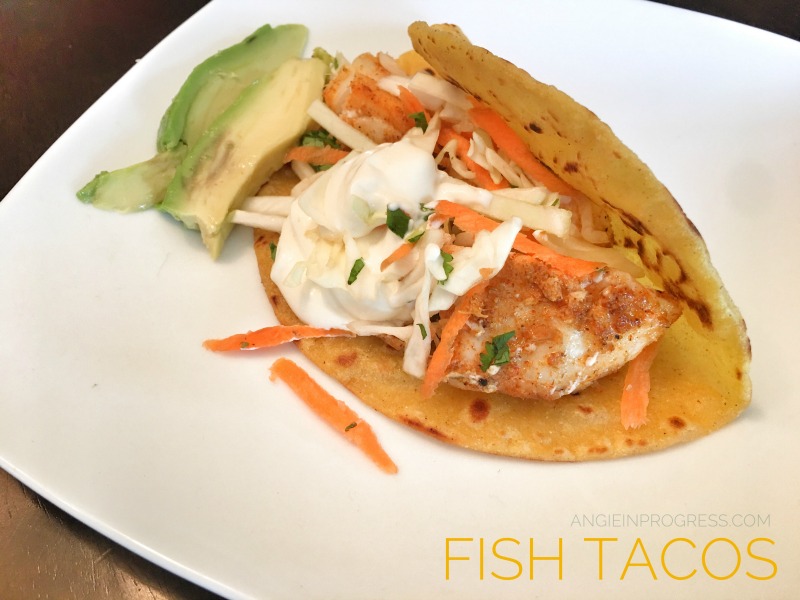 INGREDIENTS:
Lime Crema
1/3 cup sour cream or plain Greek yogurt

3 tablespoons mayonnaise (I used avocado mayo)

zest from half a lime

juice of whole lime

1/4 teaspoon salt
Slaw:
2 cups cabbage, shredded

1/4 cup cilantro, chopped

2 carrots, shredded

1 clove garlic, minced
Tacos:
2 tablespoons vegetable oil

1 tablespoon lime juice

2 teaspoons ground cumin

2 teaspoons paprika

1 teaspoon ground coriander

1/4 teaspoon red pepper powder (more or less to taste)

1/2 teaspoon garlic powder

1/4 teaspoon salt

1/4 teaspoon ground black pepper

1 pound white fish (eg. cod, snapper, talipia)

corn tortillas

1 avocado, sliced (optional)
DIRECTIONS:
Combine ingredients for the lime crema in a small bowl and set aside.
Combine ingredients for the slaw in a large bowl and set aside.
Preheat oven to 

425°F. 

In a small bowl combine the oil, lime juice, cumin, paprika, coriander, red pepper powder, garlic powder, sale and pepper.
Pour the marinade mixture over the fish and toss to coat.
Place the fish on a lined baking sheet and let it marinade in the refrigerator for about 15 minutes.
Bake fish for 10-15 minutes (depending on thickness of the fish) until it is flaky when tested with a fork.
Transfer the fish to a plate and break in to smaller pieces with a fork.
Heat the tortillas according to package directions.
Add fish, slaw and crema to the warmed tortillas and enjoy!
Container equivalents per 2 tacos: 1 red, 1 green, 1 yellow, 1 blue (avocado)
Have a Beachbody program but need help with meal planning, and the support & accountability to stick with it? Contact me below, I can help! Here is just one of the transformations I've seen in my groups. Michelle completed 2 rounds of the 21 Day Fix in preparation for her son's wedding! Needless to say, she packed her bikini! 🙂