Tuesdays at my house are for tacos, nachos, enchiladas, quesadillas, etc!
We like using different lean proteins, fish or even meatless now and then.
I found this new recipe on Fixate (along with hundreds of workout options, it's one of the many exclusives for Beachbody on Demand members), and I knew I needed to try it!
And good news, it fits in perfectly to my 80 Day Obsession meal plan!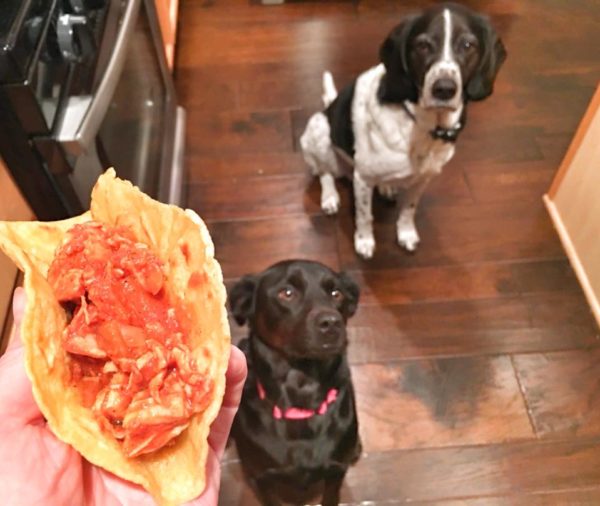 The dogs are always very interested in what's going on in the kitchen. I generally trip over them a few times and finally give in to their desperate stares and actual puppy dog eyes! 😉 They enjoyed a few tastes almost as much as we did!
CHICKEN TINGA TACOS
Serves 4 (2 tacos each)
INGREDIENTS
1 cup low-sodium organic chicken broth
1 tsp. unflavored gelatin (preferably from grass-fed cows)
1 Tbsp. olive oil
¾ cup chopped onion (approx. 1 medium)
4 cloves garlic, finely chopped
1 cup all-natural tomato puree
1 Tbsp. chili powder
1 tsp. dried oregano leaves
2 bay leaves
2 canned chipotle chili peppers in adobo sauce, finely chopped **I used 1 Tbsp. because the first time with two was way too spicy for me!
1 Tbsp. adobo sauce (sauce from the canned chipotle chili peppers in adobo sauce)
1 Tbsp. fresh lime juice
1 tsp. finely grated lime peel (lime zest)
3 cups shredded cooked chicken breast **I cook my chicken breasts in low-sodium chicken broth in the slow cooker then shred
¼ tsp. sea salt (or Himalayan salt)
¼ tsp. ground black pepper
8 (6-inch) corn tortillas
DIRECTIONS
Sprinkle broth with gelatin in a small bowl. Set aside.
Heat oil in medium nonstick skillet over medium high heat until fragrant.
Add onion; cook, stirring frequently, for 3 to 5 minutes, or until onion is translucent.
Add garlic; cook, stirring frequently, for 1 minute.
Add broth mixture, tomato puree, chili powder, oregano, bay leaves, chipotle chili peppers, adobo sauce, lime juice, lime peel, chicken, salt, and pepper. Bring to a boil. Reduce heat to low; gently boil, stirring occasionally, for 15 minutes, or until sauce is reduced by half.
Remove bay leaves. Divide ¾ cup (

1 red container

) chicken mixture between two tortillas (

1 yellow

) for each serving.
VARIATIONS:
• Possible toppings (for 1 serving) include:
• 2 Tbsp. Cotija cheese (½ blue )
• 1⁄8 medium avocado, chopped (½ blue )
• 1 Tbsp. chopped onion with a sprinkling of chopped cilantro and a squeeze of lime juice (Free)