Oh my goodness! This is heaven in a bowl! I might have this as my post-workout meal every single day for the duration of my new fitness program! I made a huge pan of it that I will enjoy the rest of the week!
I love that this meal plan tells me exactly what to eat and when to eat it! It really takes the guesswork out of the entire process! And although it's probably one of the most disciplined programs I've ever done, somehow it's been easier for me to stick with it than any other program I've tried.
Learn more about the ULTIMATE PORTION FIX!
Oh, and I LOVE the workouts too! But I'll talk about that another day. Right now, it's all about the food!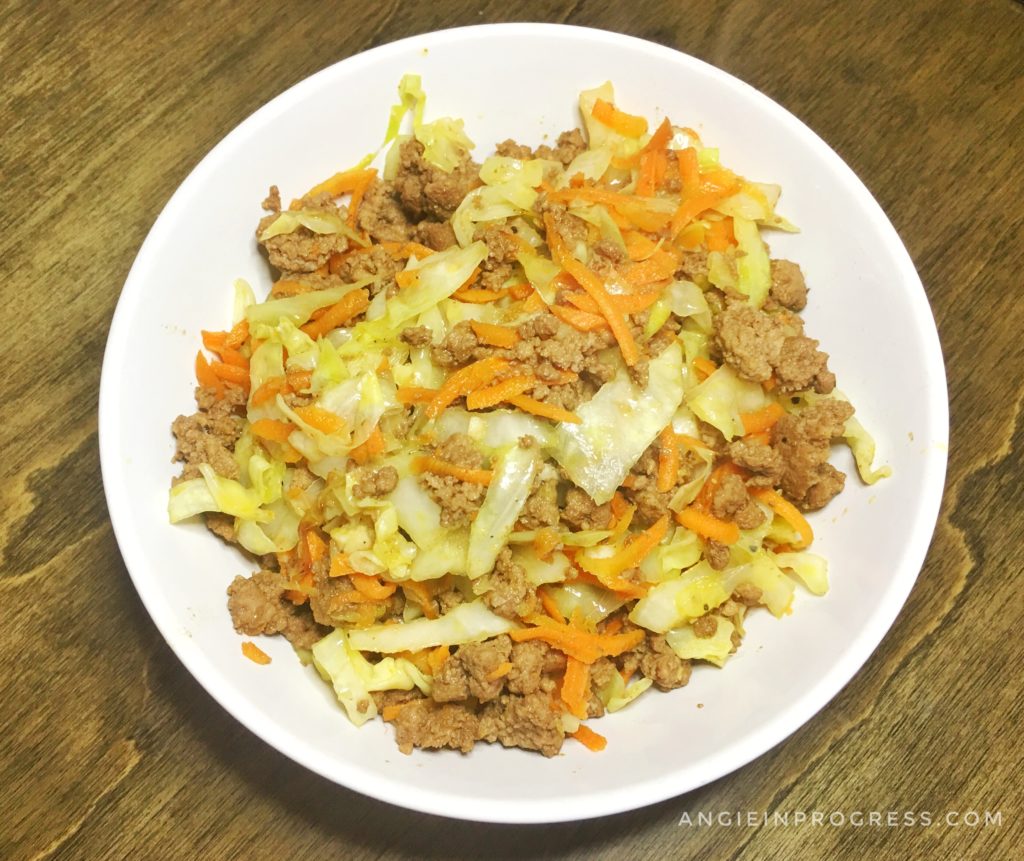 FIX-approved Egg Roll Bowl
(makes 4 servings – perfect for meal prepping!)
INGREDIENTS
1 lb lean ground turkey or beef
16 oz. cole slaw mix (or about 1/2 cabbage and 3 carrots – shredded)
4 tsp sesame oil
3 cloves garlic
1/2 t. ginger (Fresh would be great! Dry is fine too.)
1/4 cup broth (chicken/veggie whatever)
3 T liquid aminos (or reduced sodium soy sauce)
1/2 t hot sauce
1 t. vinegar (apple cider or white work fine)
4-5 drops of stevia extract (optional)

salt & pepper to taste

 cooked brown rice (1 yellow container per serving)
DIRECTIONS
Brown meat in skillet, season with salt and pepper.
Meanwhile combine soy sauce, hot sauce, vinegar, ginger and stevia.
Once the meat is cooked thoroughly, remove from pan, drain and set aside.
Add oil to pan and sauté carrot and cabbage. Add garlic.
Add the broth.
Cook until cabbage is as tender as you like.
Add sauce mixture and meat.
Mix to combine and serve over 1 yellow container of pre-cooked brown rice.
Containers used per serving: 1 red, 1 green, 1 yellow, 1 tsp.