I LOVE a warm bowl of soup…especially when it's freezing ass cold outside! My phone informs me that it feels like -3° at the moment. I might need to take a BATH in this soup!
This Zuppa Toscana REALLY hit the spot. Only trouble is…I made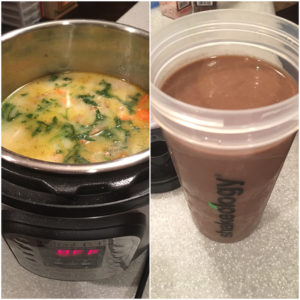 it and didn't have time to eat it right away. I thought I had planned it out to a T! I knew exactly how much time it would take to make in my Instant Pot – which isn't long by the way! I freaking LOVE this thing! I just hadn't allowed time to defrost the meat! DANGIT!
So the second it finished cooking, I had to run out the door to take my daughter to dance. I quickly blended up a chocolate peanut butter Shakeology for the road, but knew that the steamy warm goodness would be there waiting for me when we returned. I didn't even take off my coat. I filled up a bowl and slurped it down! SOOOooo good! And with an Instant Pot…SOooooo fast! (Just make sure you have thawed your meat first!) 😉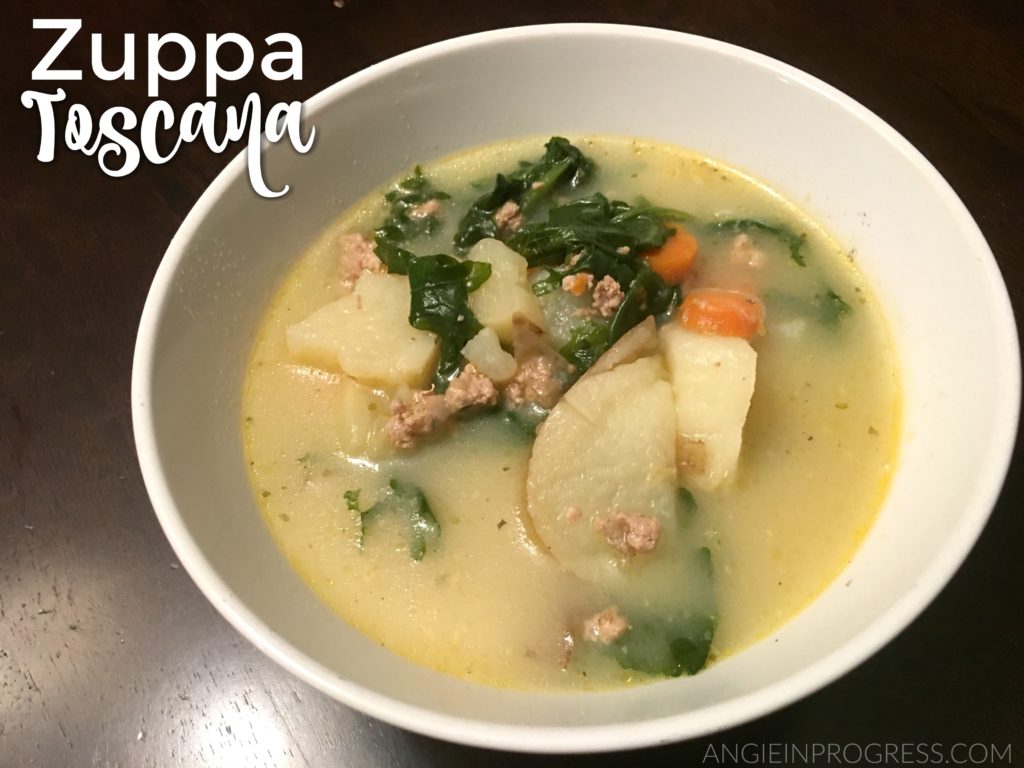 Ingredients
2 Tbs olive oil
1 medium onion, diced
1 lb ground mild Italian turkey sausage (or use this recipe

if you only have the ground turkey)

3-4 cloves garlic, minced
3 large baking potatoes, unpeeled, halved long-wise and sliced into 1/4-inch slices.
3 carrots sliced
6 cups chicken broth
2-3 cups fresh baby kale
3/4 cup milk (unsweetened nut milks, 2% or half and half if you like to live dangerously!) 🙂
salt & pepper to taste
Instructions
Using the "saute" function of the Instant Pot, heat the olive oil. Add onions and cook until they begin to become translucent.
Add meat, crumbling up into smaller pieces and cooking until browned.
Add garlic and cook about a minute – until it starts to smell all nice and garlicky!
Drain off excess grease if desired and return to pot.
Add potato, carrot slices and chicken broth.
Lock the lid into place and set to "sealed."
Cook at high pressure for 5 minutes on the Manual setting.
When cooking finishes, allow a natural pressure release for 10 minutes, followed by a quick release.
When pressure valve has dropped, remove the lid and add kale to the pot. The heat from the soup will wilt the kale as you stir.
Pour in the milk or half and half and desired amount of salt and pepper and stir to combine.
Makes about 6 servings.
Fix containers: 2 cup serving, 1 yellow, 1 red, 1 green