So my daughter is always trying to get me to take her to Starbucks for frappu-Ch-Ching-os (SO expensive! JEEZ!). I wasn't in the mood for coffee, or for the price tag, so I tried one of the green tea chiller drinks (or whatever they're called) instead. It was surprisingly delightful, albeit still a little pricey! So I was on a mission to create my own for a small fraction of the price!
I started looking up recipes, but they all called for making a berry syrup, with a ton of sugar. Blech! NOT what I wanted! So as per usual, I just took some ideas from a few different recipes and kinda did my own thang. The result was pure yumminess! This will be such a tasty summer beverage, and I can't wait to experiment with some other flavors! The possibilities are endless!
For my first experiment I made this delicious…
Lemon

Berry

Green

Iced Tea!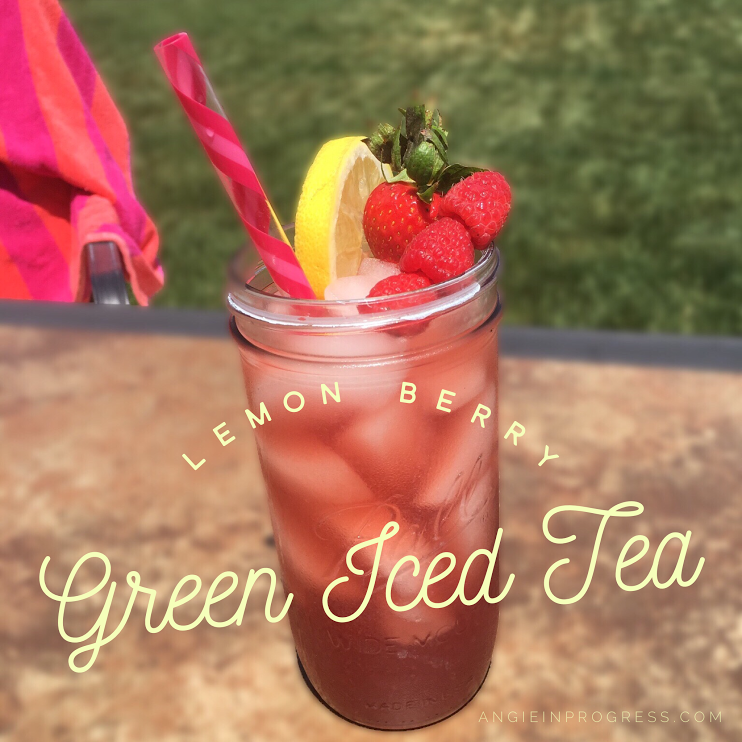 Ingredients
8 

cups

water

1 

cup

raspberries

1 

cup

strawberries, chopped

8 

bags lemon green tea (I used Bigelow green tea w/lemon) 

4 

teaspoons

honey, agave nectar (or sweetener of your choice)

lemon, berries to garnish 🙂
Directions
In a large pot, bring water to boil and then remove from heat.
Add berries, crush a little with a potato masher. Add tea bags and honey (agave or sweetener of choice), stir well and let sit for about 15 minutes.
Pour through a strainer into a 2 quart pitcher. Cool to room temperature before transferring to the refrigerator.
Serve in a tall glass over ice with a lemon berries or BOTH. Enjoy!
I am quite certain that this could be prepared as sun tea. I haven't tried that yet, but it's on my list of things to do this summer!
—–