So…I'm about one and a half weeks away from finishing up Body Beast! I will definitely be repeating this program. I have REALLY loved it! My only regret is that I didn't chart my progress very well throughout
the last 3 months. Boo for me! I'm always STRESSING this in my challenge groups, and then I don't follow my own recommendations! Really dumb move on my part! BUT…I know I've made progress! I flexed in front of the mirror the other day and surprised myself! Where did those arms come from?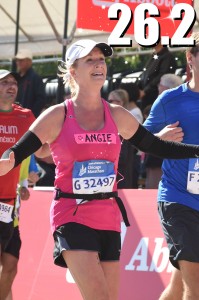 Over the summer, when I was training for the Chicago Marathon, strength training sort of took a back seat. Being a busy mom of 4 AND training for a marathon takes a LOT of time! But I really missed lifting weights and could 'weight' to get back to it! (See what I did there? As you can see…my arms aren't looking particularly 'ripped' in my marathon picture! 🙂 And that's one of the great things about weight-training, you can really see results FAST! And in a couple of weeks…I'll be starting my NEXT program…21 Day Fix EXTREME! (More about that later!)
So, now that I am in the 'off season', I've had time to do Body Beast AND work in some runs each week, too! I truly love to do BOTH!
Back in December, I did a fun little challenge to see if I could run 50 miles during the month. It was such a silly little thing, but it turned out to be VERY motivating! It was fun to tick off the miles as I went! And doing it in such a busy month, while living in Michigan in the winter…well…I was feeling pretty good about it!
So I'm doing it again!!!
Who wants to do it with me?
50 miles in 28 days is totally do-able! It's only an average of 1.8 miles per day!
I'll have a group on Facebook for the month to help us keep track, stay motivated and cheer each other on until we reach our goal!
Who's in for this FUN, FREE, FEBRUARY 50 group? Sign up to join me!