Clean eating playdough? I don't actually suggest EATING it, but the point is that you COULD!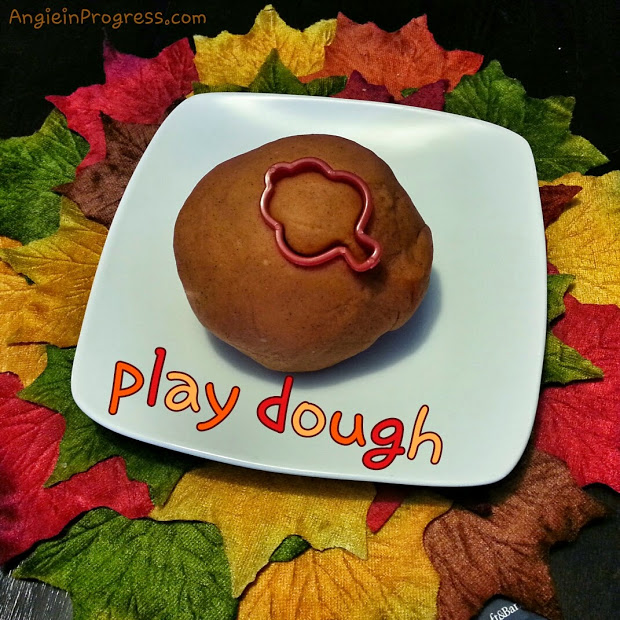 Now I know that Playdoh (from the store), is labeled as non-toxic, but I wouldn't suggest eating it! Would you?  A United States patent indicates it is composed of water, a starch-based binder, a retrogradation inhibitor, salt, lubricant, surfactant, preservative, hardener, humectant, fragrance, and color. A petroleumadditive gives the compound a smooth feel, and borax prevents mold from developing. That does NOT sound delicious, or consumable at all! Not to mention, if you leave the cap off, or even just cracked a smidge…it's garbage. Instant odd-shaped marbles!
*Fun Fact: When the original inventors designed the Playdoh modeling clay it was intended to be used as wallpaper cleaner.
Homemade playdough, on the other hand, is made with just a few basic ingredients that you most likely have in your kitchen. The only thing you might not have is cream of tartar. You can get it in the spice aisle, and I make enough homemade playdough that I just make sure to have some on-hand. My kids LOVE playing with it! Even my older kids! HECK! Even I like to sit down and play when they get it out! It's kind of soothing and mesmerizing! Don't believe me? Try it!
So what does playdough have to do with health and/or fitness? Well, here is how I'm tying this all together! I have made an observation throughout the years that sometimes in order for me to find some ME time, I have to set the kids up with something FUN for them to do that will keep them busy for 30-60 minutes – just enough time for me to get in my workout! Homemade playdough is one of those things that keeps them occupied long enough for me to do my workout. I get out all of the cutting tools, rollers and toys, spread it all out on the table and let them go to work. So THERE…that's how playdough is health/fitness related! Works for me!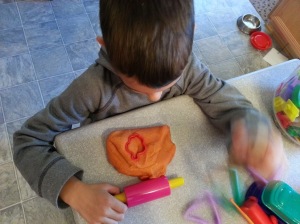 This is my go-to recipe! And even though it feels like winter, it's still technically fall, so a pumpkin-spiced dough recipe works just fine! But feel free to experiment and try other varieties! Christmas cookie (vanilla/nutmeg)? Peppermint candy (peppermint extract & red food coloring)?
To store, just pop it into a ziploc bag, and keep in the refrigerator for MONTHS! 🙂
Pumpkin Spice

Playdough

Recipe 
Ingredients:
1 cup flour
1 cup water
1/4 cup of salt (a little more if you use kosher)
1 tablespoon coconut oil*
2 teaspoons cream of tartar
2 teaspoons pumpkin pie spice (or a mix of cinnamon/nutmeg/cloves)
optional: food coloring or natural food based dyes (such as beet juice and turmeric)
Directions:
Combine all ingredients (except food coloring) in a large pot.
Stir over medium heat until a big ball forms. (It should be smooth and no longer sticky.)
Remove from the pot and allow to cool until the

dough

can be worked by hand.
Divide the

dough

into however many different colors you want.
Work the colors into the

dough

by adding a few drops at a time and kneading. (We used red and yellow to make orange but you can just leave it as is.  Other colors could be achieved with natural juices: beet, carrot, turmeric.)
Enjoy!
* Coconut oil is the secret ingredient.  It makes the best play dough EVER!  If you haven't tried it, I highly recommend it.
H

A

V

E

F

U

N

!!!