Kale (not quale!) –  I took that joke TOO far! 😉
I was in the mood for a Mediterranean salad the other night, and didn't really feel like looking for recipes on-line, so I just made this one up! And oh MAN was it delicious! My husband and I gobbled this up and fought for the left-overs. (Slight exaggerations occur on this blog from time to time). Oh! And this is super easy, too! And I'm all about easy!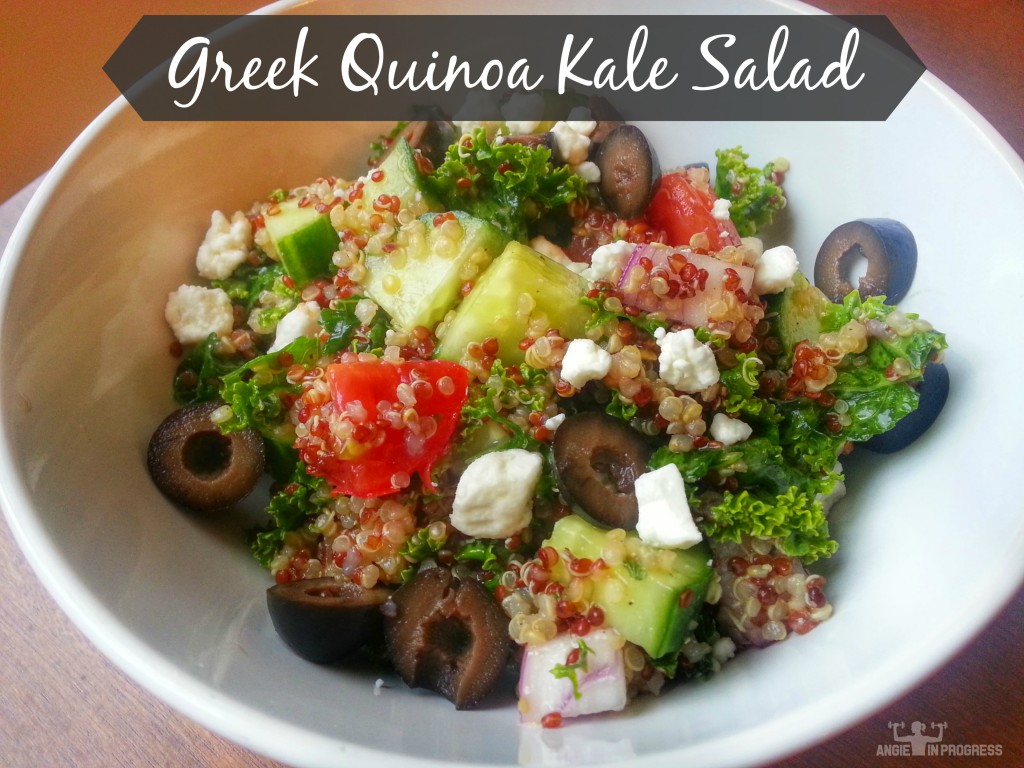 Here's what you'll need:
Greek Quinoa Kale Salad
Makes 8 servings
1 c. Quinoa (I used red and brown – for fun!)
2 c. water
3 c. chopped kale (I used curly leaf for this recipe)
*1/4 t. kosher salt (optional)
1 long cucumber (or 2 regular)
6-7 roma tomatoes (or whatever tomatoes you like!)
1/4 C. chopped red onion
2-3 T. chopped fresh parsley (or 1 T. dry)
*Optional add-ins: kalamata (or black olives), light feta cheese
Dressing:
2 T. extra virgin olive oil
2 T. red wine vinegar
juice from 1/2 fresh lemon
1-2 cloves garlic – minced
1 t. Mrs. Dash, Spike or any other all-purpose seasoning
salt & pepper (to taste)
Directions
Prepare quinoa according to package instructions. Set aside to cool. While the quinoa is cooking, place the chopped kale in a large bowl. *Sprinkle with kosher salt. IMPORTANT STEP: Massage the kale! WHAT?! Yep…I promise, it makes ALL the difference! Simply rub together, smash, toss and smash for a few minutes and the texture becomes much softer and better for salads! Chop the cucumbers, tomatoes, onion and parsley. When the quinoa is cooled, transfer to a big bowl. Add kale and chopped veggies. Whisk the dressing ingredients together and pour over everything. Toss gently. Add optional mix-ins like olives and feta cheese.
Tell me that's not delicious!
If you're following the 21 Day FIX…one serving counts as 1
yellow

, 1

green

, 1

orange

(olives), 1

blue

(feta), 1

t.

(olive oil)

If you're NOT following the 21 Day FIX, but you're interested in doing the 21 Day program that's helping people lose 10 – 15 pounds in just 21 days, than you're in luck! I'm starting a new 21 Day FIX group on Monday October 6 where you'll learn how to incorporate foods like this, as well as daily 30 minute workouts, and get GREAT results in just 21 Days! Fill in the info below, and I'll tell you how to get started.