Busy week last week and I promised some reviews on my newest workout: P90X3….so here goes!
YES! This is exactly what I was hoping for – 30 minute workouts that FEEL like a workout! I was a little worried that 30 minutes couldn't possibly get it done. WRONG! And…I was also worried that in order to get it done, it would consist of nothing but exhausting plyo moves, lots of jumping, etc. WRONG again! What I love the most so far, and what the members in my test group love too, is the VARIETY in every workout! We rarely repeat a single movement in a workout, and each workout is totally different! I also love that the focus is on functional exercises. These are the movements that will make you stronger in your everyday life! There is a little of everything, too: weights, cardio, bodyweight movements, pilates, yoga…Something for everyone! LOVE that too!
My test-groupers are also loving the 30 minutes..because HEY! What's not to love about shorter, more efficient workouts? E'RBODYs got time for that!
And RESULTS?! Check out this nonsense…with 6 people reporting (so far), we have lost a combined total of 15.6 pounds and 14 1/4 inches! IN ONE WEEK!!!
Stacie and her husband Jeremy are doing the program together (and drinking Shakeology daily). Stacie lost 2 pounds and 3 inches and Jeremy lost 5 pounds and 4.5 inches – in ONE week!!! *Can you tell that I just can't get over what we're accomplishing with 30 minute workouts, in one week?! I'm so proud of our group and can't wait to see the results in the coming weeks.
So the schedule last week will be the same for the next 2 weeks, and here it is:
Day 1: Total Synergistics (already blogged about this one…scroll up!) 🙂
Day 2: Agility X 
This one is a cardio/plyometric workout that utilizes a couple of pieces of tape on your floor, to help guide your movements a little better (truth be told…I did it without the tape, it can be done!). This is a good workout. It definitely got my heart pumping without TOO much jumping and joint-jarring!
Day 3: Yoga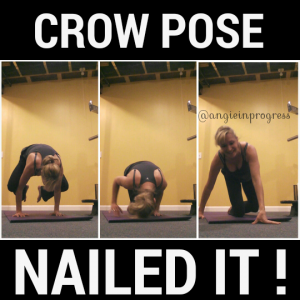 If you did P90X, you probably have hated the thought of doing yoga ever since! I do know a few people who loved it, but for me…it was 90 minutes that actually made me want to throw up! Too much downward-dogging for me, for TOO long! This one was a much more relaxed pace. You spend time in the poses and I liked it SO much better. You can see…I'm still not very good at it, but it's a goal of mine to get better.
Day 4: The Challenge
"The Challenge" is all push-ups and pull-ups, but as you can see in my video, I don't do 'actual' pull-ups…YET! But that's another goal of mine: to be doing actual pull-ups by the time these 90 days are done! Holy moly were my back, lats and chest sore the next day! I couldn't twist, giggle or put on a coat without feeling it!
Day 5: CVX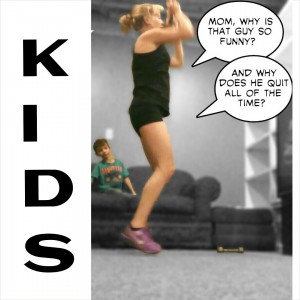 LOVED this workout! Cardio, with a light weight! The modifier used a basketball. The key is to use a little resistance if/when you can, and drop it when you have to. And as you can see…my son thought it was a hoot, too! He's used to watching me do my workout videos, and this is the first time he was entertained by the trainer. I can't wait to do this one again!
Day 6: The Warrior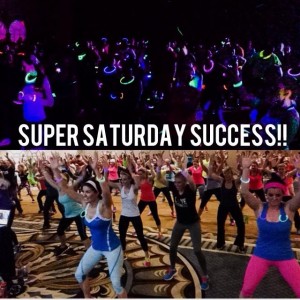 I did this workout with 400 other Beachbody coaches AFTER doing a glow TurboKick workout! Talk about OUCH! This is a body-weight resistance workout with planks and push-ups and core work, plus lunges and all kinds of good stuff!
Day 7: Dynamix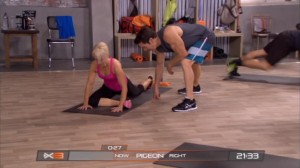 And finally, Day 7 was an optional rest day, or Dynamix. I chose to do the workout, just cause I wanted to see what a dynamix was! I was pleasantly pleased! 🙂 It was stretching and strengthening without being boring. It really felt good after my week of workouts, and it still felt like a workout, too!
In short…I am SUPER excited about this program! I've told my test group, and I'll tell you too…this may go down as one of my all-time favorites! I am so excited about the results I'm seeing so far, and look forward to seeing how well we all do with it!
I'm planning to put together another test group for anyone who missed out on the first one. The challenge pack is on sale through the end of the month, so now is a great time to get ready to start your own transformation. If you'd like a spot in the next group, starting Monday February 3, leave your name below.