It's finally here! P90X3 is on-sale, and I'm pretty excited about it! I wasn't sure initially how I would feel about it, but the more I hear and read, the more excited I am to go for it!
As you may know, I am one of the freaks of nature who opened P90X and finished all 90 days! It was hard! The workouts were long and tough! One of the workouts was 90 minutes long! Ain't nobody got time for that! I had a baby and a toddler and 2 other kids at the time, but I was determined to get it done! Sometimes I had to split it up into 2 chunks depending on the day and the mood of the children.
But, I can't argue with the results that I was able to achieve with it…so was it worth it?! Absolutely! Would I do it again? I think not. I do some of my favorite workouts from time to time, just adding them into my routine here and there (one of the perks of being a workout DVD collector!). I just don't see myself tackling that 90 day schedule again anytime soon! 🙂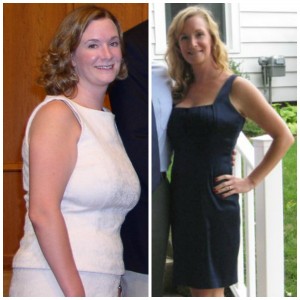 So NOW…with P90X3, we'll be able to get the same results in HALF the time! Sign me up! I am looking to mix up my routine again, and this seems like JUST what I need! This is a 90 day program and the workouts are a mere 30 minutes!!! EVERYBODY has time for THAT! It will even come with access to an app for tracking and planning!
Check out some results from the test groups.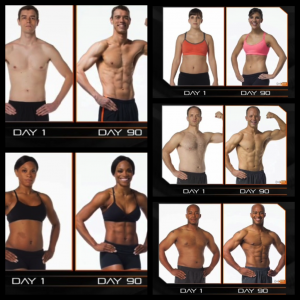 Here's why it works!
Muscle acceleration explained
Many P90X fans were hooked on the science of muscle confusion – which introduced variety to the workouts and prevented plateauing. P90X3 takes a hint from that success and from studies showing the most dramatic body transformations happen within the first 30 minutes of exercise. Enter muscle acceleration, a Tony Horton-approved highly-structured schedule with an incredibly high level of intensity and an unprecedented variety of moves. The gurus behind P90X3 combined exercises and added some twists to maximize your time and keep every muscle challenged for a full 30 minutes.
Here's what I can tell you about P90X3:
It is NOT a graduate program. ANYONE can do it, regardless of whether or not you've ever done a P90X workout.
There will be modifications so ANYONE can keep up!
Variety: 16 different workouts
Only 30 minutes
Eliminates almost ALL excuses!
Still full of that Tony Horton humor that we all love/tolerate! lol!
You'll need just some weights and resistance bands.
Special Offer!
From December 10-31, the Challenge Pack will be on-sale for $180 (after that it will go up to $205).  With the challenge pack, you will get the base program, plus 30 day supply of Shakeology (HD) as well as a 30-Day VIP Team Beachbody Club Membership for personalized meal planning and additional support. *The Challenge Pack price saves you about $100 versus purchasing these items separately!
But wait…there's MORE! 😉 If you order through me, from December 10-31, you'll receive a super cool P90X3 hat! Bonus! 🙂
Challenge Group starting Monday, January 6!
For anyone who invests in a challenge pack, I will be offering a support and accountability group for as long as you stick with the program! This group is a FREE service I provide to my customers, and it works! You get a FREE coach who will work with you everyday and help you reach your goals! I will stick with you and provide the daily tips and motivation you'll need to get it done! Maybe you've tried other workout programs in the past, and had trouble sticking with it. This group will give you the support you'll need to get it done this time! If you want to join the P90X3 group in January, and start your year off strong…fill out the form below!