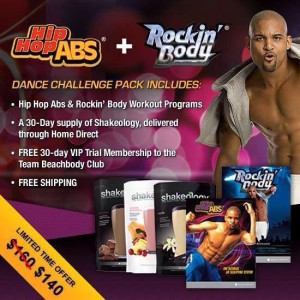 One year ago, I took the plunge! The Shakeology plunge! I was SO curious about all of the hype, that I finally decided that I needed to try it for myself. I'm not going to lie though…I was skeptical! I was making my own shakes every day, and doubted that it would be that much better or different from what I was already doing.
Well, I was so pleasantly surprised, that I can't imagine a day without it now. I feel so much more energy, less bloated, less cravings and haven't been sick ONE time since I started drinking it just over a year ago! My husband was a doubter, too…and now he loves it! My kids come running every time they hear me fire up my blender. We're all hooked!
So if you've been wanting to try Shakeology, but are worried about the cost, check out the deal this month! You can get 2 popular Shaun T programs. You know Shaun T? Focus T25, Insanity, Asylum? Ring a bell? Well before all of that, he did Hip Hop Abs and Rockin' Body. People love these programs because they're fun. This month you can get the challenge pack for $140. You'll get BOTH of the exercise programs AND Shakeology, which normally costs $129 plus shipping by itself!!! So you're kinda getting it for free!
Check out this quick video preview of the programs that are included:

Ready to get started?! You can order

HERE

!
On top of that, any time you opt for a challenge pack, you are automatically invited to join my FREE 30 day, on-line support group. You'll get the support and accountability you'll need to get started on your new programs, and start getting results!
Have you been wanting to try Shakeology, but feel like you can't justify the cost? It will cost you about $4.00/day. When you consider that you are replacing a meal with it – it's less than a 'value meal' would cost you. And SO much more nutritious! For the price of that value meal, you'll get the healthiest meal of your day! You won't likely need that fancy Starbucks drink to keep you going throughout the day either. Not to mention that the money you invest in your daily health NOW will prevent you from needing to spend money on health care later! I haven't needed a single over-the-counter medication or prescription antibiotic this year! That's REAL savings! For me, and our family, it's totally worth every penny!
What's in it?
Shakeology contains over 70 ultra high-quality ingredients conveniently located in one glass, to deliver nearly all the nutrients you need to maintain a healthy diet. It's good for you—and good for everyone—because everyone's diet is deficient in some of the key nutrient groups packed into just one Shakeology serving.
Protein from whey, which is highly absorbable, gives you 8 essential amino acids that help you build muscle, lose weight, support brain function, and keep your skin and bones healthy.
Vitamins and minerals support optimum health.
Antioxidants boost the immune system and help reduce free radical damage that can lead to heart disease, heart attacks, blood pressure, and stroke.
Phytonutrients support immune function and have anti-inflammatory properties. Many phytonutrients have antioxidant properties as well.
Prebiotics support digestive and immune health.
Digestive enzymes help in the digestion of foods and increase the absorption rate of those foods for optimum health.
Want to save even more money? If you sign up as a coach, you can save 25% on your monthly Shakeology. You don't need to do anything else! If you're not interested in coaching, FINE! Enjoy the discounts off ALL Beachbody products and programs. If you're interested in covering the cost of your Shakeology each month and then some, I can teach you how to build your own successful business. SO MANY OPTIONS!
Want to learn more about being a coach? Provide your information below, and I can answer all of your questions.