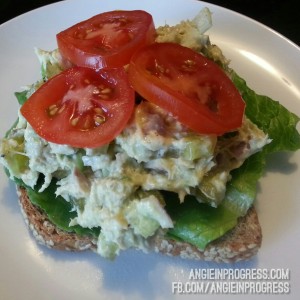 I'm packing up a lunch for today. I will not be tempted by the snack bar, or the fast food restaurants on the way to my destination. Even if the kids are whining in the back, "Please Mom", they'll say. "Heck no", I'll say. I've got tuna salad today. I made it and packed it myself.
I haven't always been a 'packer'. The last year has changed the way I look at a road trip, or a day away from home. I used to say,"ah, we'll just stop and eat someplace along the way". Nothing good ever comes of that! I have not eaten from a drive-thru in almost a year! I work too hard on my health and fitness to sabotage all of that with grease and sodium! Plus, I have a fridge and pantry all stocked with very edible and pack-able foods. It might take an extra 10 minutes before we leave, but it's worth it. Not to mention, when we DID hit the drive-thrus, I was ALWAYS the car that had to pull ahead and wait for our food. So those 10 minutes would've been spent waiting for our pink slime and leftover chicken bits anyway! *I do occasionally give in to the kids pleas…sometimes they just gotta have their hockey pucks and fat sticks. Blech!
So on to the tuna…I've made this tuna, and even posted about it on Facebook about a zillion times! It's a stand-by lunch for me. It's really simple and a great way to make it without the mayo!
Tuna Salad (makes 2 servings)
Ingredients: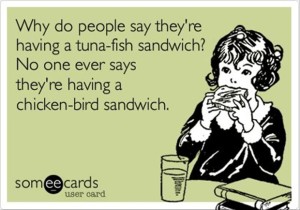 1 can very low sodium albacore tuna
2 T non-fat Greek yogurt
1/4 avocado (mashed)
1 t. dijon mustard
Mix-ins:
diced onions
diced celery
diced pickle
*Whatever crunchy bits you like!
I like to eat mine either like an open-faced sandwich. Sometimes I'll just scoop it into romaine lettuce leaves. Or I like to have it in an Ezekiel tortilla.
Nutitional info: 1 serving (just the tuna salad) is about 150 calories, 3 g. fat, 20 g. protein, 8 g. carbs
Want to sign up for my newsletter for fit tips, recipes and special offers?
[mc4wp-form]