So if I've learned anything over the past year…weight loss is WAY more of a mental challenge than a physical challenge! Yes working out is hard, and it makes you sore and tired at the beginning, etc…but the real challenge is keeping your focus and getting beyond the doubts, frustrations, set-backs and plateaus that you will inevitably encounter along the way! You'll wonder some days how you will be able to carve out the time for a workout in your busy schedule. You'll be tired, and crabby and just down sometimes. That's when you need your brain to remember that exercise makes you feel BETTER! You'll struggle with nutrition, which is ALL mental! You have to retrain your brain not to pay attention to cravings caused by years of bad eating habits. You have to remember that food is fuel, not therapy or something to pass the time. These things are HARD to do!  It's almost entirely mental!
That is why I've decided that September is a great time, with the kids going back to school, to do some book-learning and brain re-training of our own! I've decided to start a book club/weight-loss support group. Two for the price of one! 🙂 I need some accountability to work on my own self-improvement goals (both physical AND mental). This group will be open to anyone who wants to get in better shape AND learn how to get MORE done in LESS time (including your workouts!).
Join me for this "Biggest Loser" type of challenge AND book club! We'll be reading Eat That Frog: by Brian Tracy. We'll be starting on September 9! We'll workout, eat better, read just 5 pages a day – everybody's got time for that! We'll be keeping each other ON TRACK through a private Facebook support group for 30 days. I will be your coach, providing daily motivation, tips and recipes, and we'll all check in daily for accountability.
Fitness + Nutrition + Accountability = Success!
Don't believe me? Read some of the testimonials from previous challenge participants by clicking HERE!
*Anyone who joins with a "Challenge Pack" will receive the book for FREE! I only have a couple of spots left for this one.
What is a Challenge Pack? EVERYTHING you'll need for maximum results: new fitness program + Shakeology + 30 day club membership for additional support and personalized meal-planning.
There are some GREAT sales going on this month, too!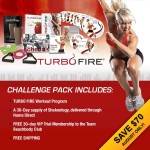 For just a short time longer, you can get the very popular Turbo Fire Challenge pack and save $70!
And, the BRAND NEW Shaun T program, Focus T25! Workout 25 minutes/day!
There are LOTS more to pick from too! You can check them out HERE!
Ready to join? Fill out the form below and I'll contact you soon!